The risk of sperm demage in men with the combined effect of endocrine disruptors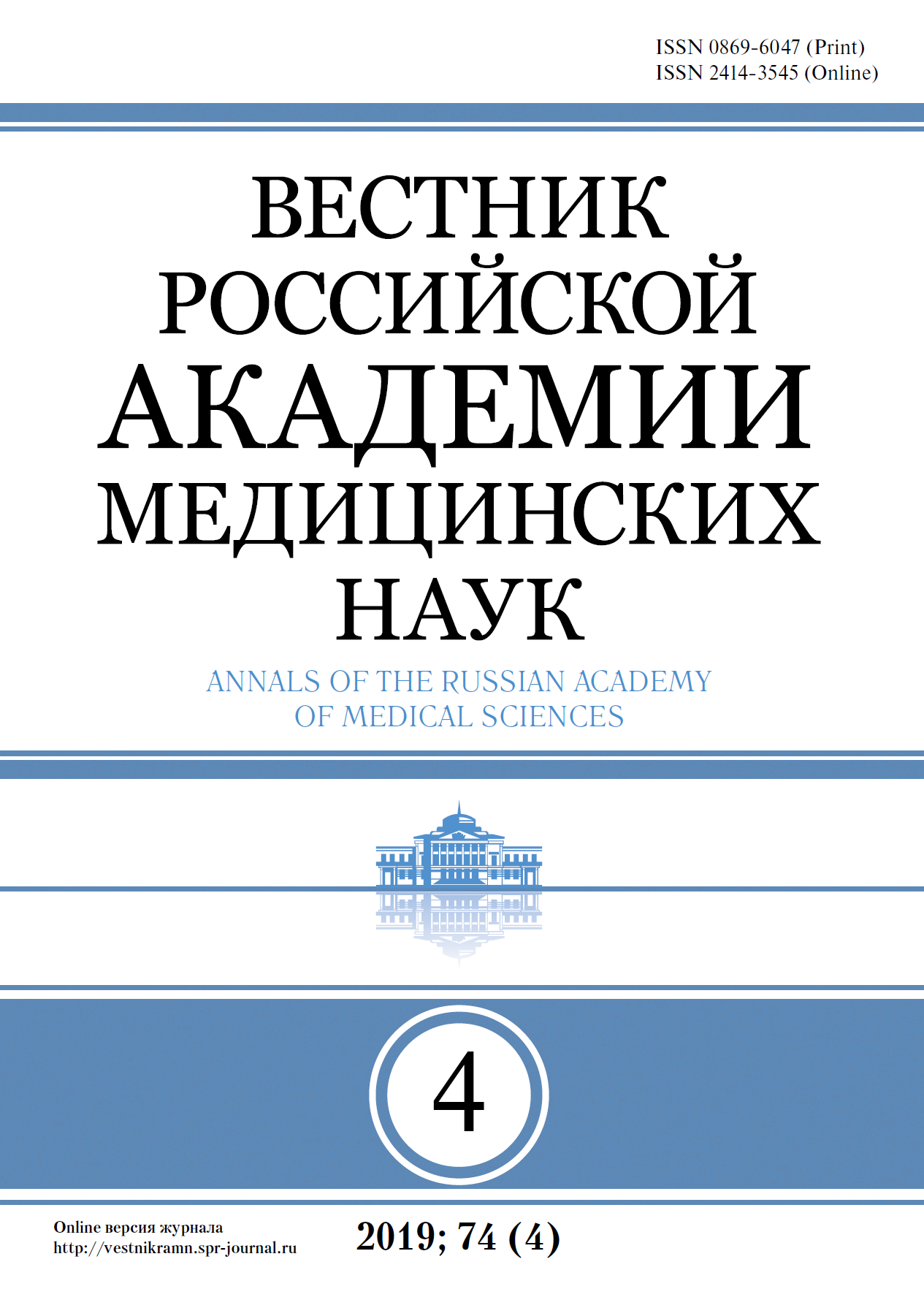 Authors: Chigrinets S.V.1,2, Brukhin G.V.1
Affiliations:

South-Ural State Medical University of Russian Ministry of Health
DNK Clinic

Issue: Vol 74, No 4 (2019)
Pages: 229-234
Section: ANDROLOGY: CURRENT ISSUES
Abstract
Background: The most frequent ultrastructural change in sperm cells is nuclear DNA fragmentation. Many authors believe that DNA damage to sperm cells can serve as a diagnostic marker of a negative paternal effect in the pre-implantation period of human development. A number of studies have shown a direct correlation between the high percentage of sperm DNA damage and the frequency of spontaneous abortions. On the other hand, it is known that the damaging effect of endocrine disruptors, for example, triclosan and bisphenol A, is based on their ability to induce oxidative stress, which is considered as one of the factors in cell DNA damage.
Aims: to assess the risk of sperm DNA fragmentation in men with the combined effect of bisphenol A, triclosan and 4-nonylphenol in seminal fluid.
Materials and methods: 84 samples of seminal fluid of men with normo-and patozoospermia were studied. The concentration of bisphenol A, triclosan and 4-nonylphenol in gas was determined by gas chromatography with mass spectrometry (GC-MS). The comparison groups were divided according to the degree of DNA fragmentation of spermatozoa into two groups: the 1st group of patients with DNA fragmentation of spermatozoa <15% (n=18) and the 2nd group ≥15% (n=29). The spermiological study was carried out according to the WHO recommendations (2010) taking into account the assessment of the number of spermatozoa, their motility and morphology, as well as the degree of fragmentation of the sperm DNA.
Results: Bisphenol A was found in 100% of the ejaculate samples with a median concentration of 0.150 ng/ml. Triclosan and 4-nonylphenol were detected in 84.3 and 98.1% of ejaculate samples with a median concentration of 0.11 and 0.16 ng/ml respectively. Comparison groups were statistically significantly distinguished by the concentration of bisphenol A and triclosan — p=0.014; p<0.001 respectively. Triclosan with an increase in concentration in seminal fluid by 0.1 ng/ml increased the chance of development of the degree of DNA fragmentation ≥15% by 2.9 times. The odds ratio of bisphenol A and 4-nonylphenol to DNA damage was not statistically significant. The prognostic model of the joint effect of endocrine disruptors on DNA damage, constructed using multiple logistic regression analysis, was also found to be statistically significant only with respect to the effect of triclosan.
Conclusions: The risk of damage to sperm DNA in men is primarily associated with the effect of triclosan in seminal fluid. At the same time, it is necessary to assume the absence of a synergistic effect of bisphenol A, triclosan and 4-nonylphenol on the DNA damage of spermatozoa in men.

Stanislav V. Chigrinets
South-Ural State Medical University of Russian Ministry of Health; DNK Clinic
Author for correspondence.
Email: chigrinstas@gmail.com
ORCID iD: 0000-0002-7072-8289
SPIN-code: 2278-8992

Russian Federation, 64, Vorovsky street, Chelyabinsk, 454092; Chelyabinsk
graduate student of the Department of Histology, Embryology and Cytology; doctor o f the infertility treatment center 
Gennadiy V. Brukhin
South-Ural State Medical University of Russian Ministry of Health
Email: bgenvas@mail.ru
ORCID iD: 0000-0002-3898-766X
SPIN-code: 7691-8383

Russian Federation, 64, Vorovsky street, Chelyabinsk, 454092
MD, PhD, Professor
Бесплодный брак. Версии и контраверсии / Под ред. В.Е. Радзинского. — М.: ГЭОТАР-Медиа; 2018. — 404 с. [Besplodnyi brak. Versii i kontraversii. Ed by V.E. Radzinskii. Moscow: GEOTAR-Media; 2018. 404 р. (In Russ).]
Демография для практических работников: методические рекомендации для специалистов органов исполнительной власти субъектов Российской Федерации / Под ред. Л.Л. Рыбаковского. — М.: Экон-информ; 2014. — 254 с. [Demografiya dlya prakticheskikh rabotnikov: metodicheskie rekomendatsii dlya spetsialistov organov ispolnitel'noi vlasti sub»ektov Rossiiskoi Federatsii. Ed by L.L. Rybakovskii. Moscow: Ekon-inform; 2014. 254 р. (In Russ).]
Артифексова А.А. Патогенетические аспекты мужской субфебрильности как причины репродуктивных потерь // Проблемы репродукции. — 1999. — Т.5. — №6. — С. 37–41. [Artifeksova AA. Patogeneticheskie aspekty muzhskoi subfebril'nosti kak prichiny reproduktivnykh poter'. Problemy reproduktsii. 1999;5(6):37–41. (In Russ).]
Høst E, Lindenberg S, Smidt-Jensen S. The role of DNA strand breaks in human spermatozoa used for IVF and ICSI. Acta Obstet Gynecol Scand. 2000;79(7):559–563. doi: 10.1034/j.1600-0412.2000.079007559.x.
Zini A, Meriano J, Kader K, et al. Potential adverse effect of sperm DNA damage on embryo quality after ICSI. Hum Reprod. 2005;20(12):3476–3480. doi: 10.1093/humrep/dei266.
Eisenberg ML, Sapra KJ, Kim SD, et al. Semen quality and pregnancy loss in a contemporary cohort of couples recruited before conception: data from the Longitudinal Investigation of Fertility and the Environment (LIFE) Study. Fertil Steril. 2017;108(4):613–619. doi: 10.1016/j.fertnstert.2017.07.008.
Morris ID, Ilott S, Dixon L, Brison DR. The spectrum of DNA damage in human sperm assessed by single cell gel electrophoresis (Comet assay) and its relationship to fertilization and embryo development. Hum Reprod. 2002;17(4):990–998. doi: 10.1093/humrep/17.4.990.
Tomsu M, Sharma V, Miller D. Embryo quality and IVF treatment outcomes may correlate with different sperm comet assay parameters. Hum Reprod. 2002;17(7):1856–1862. doi: 10.1093/humrep/17.7.1856.
Larson KL, DeJonge CJ, Barnes AM, et al. Sperm chromatin structure assay parameters as predictors of failed pregnancy following assisted reproductive techniques. Hum Reprod. 2000;15(8):1717–1722. doi: 10.1093/humrep/15.8.1717.
Filatov MV, Semenova EV, Vorob'eva OA, et al. Relationship between abnormal sperm chromatin packing and IVF results. Mol Hum Reprod. 1999;5(9):825–830. doi: 10.1093/molehr/5.9.825.
Weatherly LM, Gosse JA. Triclosan exposure, transformation, and human health effects. J Toxicol Environ Health Crit Rev. 2017;20(8):447–469. doi: 10.1080/10937404.2017.1399306.
Tomza-Marciniak A, Stępkowska P, Kuba J, Pilarczyk B. Effect of bisphenol A on reproductive processes: a review of in vitro, in vivo and epidemiological studies. J Appl Toxicol. 2018;38(1):51–80. doi: 10.1002/jat.3480.
Belloc S, Benkhalifa M, Cohen-Bacrie M, et al. Sperm deoxyribonucleic acid damage in normozoospermic men is related to age and sperm progressive motility. Fertil Steril. 2014;101(6):1588–1593. doi: 10.1016/j.fertnstert.2014.02.006.
Mínguez-Alarcón L, Hauser R, Gaskins AJ. Effects of bisphenol A on male and couple reproductive health: a review. Fertil Steril. 2016;106(4):864–870. doi: 10.1016/j.fertnstert.2016.07.1118.
Gao L, Yuan T, Cheng P, et al. Effects of triclosan and triclocarban on the growth inhibition, cell viability, genotoxicity and multixenobiotic resistance responses of Tetrahymena thermophila. Chemosphere. 2015;139:434–440. doi: 10.1016/j.chemosphere.2015.07.059.
Jurewicz J, Radwan M, Wielgomas B, et al. Environmental levels of triclosan and male fertility. Environ Sci Pollut Res Int. 2018;25(6):5484–5490. doi: 10.1007/s11356-017-0866-5.
WHO laboratory manual for the examination and processing of human semen. World Health Organization, Department of Reproductive Health and Research. 5th ed. Geneva: WHO; 2010.
Zoeller RT, Brown TR, Doan LL, et al. Endocrine-disrupting chemicals and public health protection: a statement of principles from the Endocrine Society. Endocrinology. 2012;153(9):4097–4110. doi: 10.1210/en.2012-1422.
Buck Louis GM. Persistent environmental pollutants and couple fecundity: an overview. Reproduction. 2014;147(4):R97–R104. doi: 10.1530/REP-13-0472.
Axelstad M, Hass U, Scholze M, et al. EDC IMPACT: Reduced sperm counts in rats exposed to human relevant mixtures of endocrine disrupters. Endocrine Connections. 2018;7(1):139–148. doi: 10.1530/ec-17-0307.
Zhu W, Zhang H, Tong C, et al. Environmental exposure to triclosan and semen quality. Int J Environ Res Public Health. 2016;13(2):224. doi: 10.3390/ijerph13020224.
Vandenberg LN, Colborn T, Hayes TB, et al. Hormones and endocrine-disrupting chemicals: low-dose effects and nonmonotonic dose responses. Endocr Rev. 2012;33(3):378–455. doi: 10.1210/er.2011-1050.
Supplementary files
| | | | |
| --- | --- | --- | --- |
| 1. | Fig. 1. The proportion of normozoospermia and various variants of pathozoospermia (%) | View (74KB) | Indexing metadata |
| 2. | Fig. 2. Comparison of groups by the concentration of EDs (ng / ml) in seminal fluid | View (87KB) | Indexing metadata |