Method of Surgical Management of Genital Prolapse with Cervical Elongation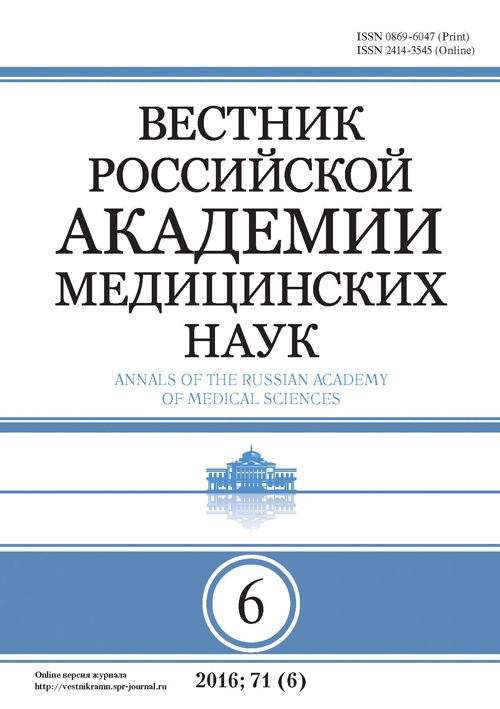 Cite item
Abstract
Objectives: According to different authors, the percentage of genital prolapse among gynaecological diseases that require surgical correction reaches 28−38,9%. Pelvic muscle wasting is a special kind of pelvic prolapse, often leading to cervical elongation and hypertrophy. Contemporary methods of treatment for this condition have the high rate of relapse― 8,9−22%, thus urging to improve the existing techniques.
The purpose of this research was to estimate the effectiveness of novel modification of Manchester operation in comparison with classic Manchester operation in the management of pelvic prolapse with cervical elongation.
Methods: We enrolled 83 patients with pelvic prolapse and cervical elongation and divided them into two groups. In GroupI (n=47) we used the novel surgical method, supplementing original Manchester procedure with cervical stump fixation and other improvements. In GroupII we used original Manchester procedure. We compared laboratory measures as well as surgery duration, blood loss, incidence of complications, and duration of post-operational hospital stay. Patients were followed-up for 2years to estimate long-term effectiveness of surgical intervention. Statistical analysis was performed in SPSS 17.0.
Results: Surgery duration in GroupII was significantly longer (47,8±26,2 vs 57,5±35,1 minutes, p<0.05). There were no significant differences in lab tests, post-operational hospital stay (5,2±0,9 vs 7,3±1,2) and incidence of post-operational complications (3 vs 4 cases). Over the 2 years of follow-up we registered 1 case of relapse in Group I and 3 cases of relapse in Group II, thus estimating the effectiveness of surgery as 97,9 vs 91,7%, a non-significant difference. We noticed that all relapsed women had signs of systemic dysplasia of connective tissue.
Conclusion: Suggested modification of Manchester operation improves duration of surgical intervention itself, while providing a comparable level of effectiveness.
References
Гинекология. Национальное руководство / Под ред. Кулакова В.И., Манухина И.Б., Савельвой Г.М. ― М.: ГЭОТАР-Медиа; 2007. — 1150 c. [Ginekologiya. Natsional'noe rukovodstvo. Еd by Kulakov VI, Manukhin IB, Savel'va GM. Moscow: GEOTAR-Media; 2007. 1150 p. (In Russ).]
Гинекология по Эмилю Новаку / Под ред. Берека Д., Адаши И., Хиллард П. ― М.: Практика; 2002. — 892 c. [Berek J, Adashi E, Hillard P, editors. Novak's Gynecology. Moscow: Praktika; 2002. 892 p. (In Russ).]
Кулавский В.А., Никитин Н.И. Несостоятельность тазового дна женщин (клиника, диагностика, лечение, профилактика). Методические рекомендации. ― Уфа: БГМУ; 2015. — 78 с. [Kulavskii VA, Nikitin NI. Nesostoyatel'nost' tazovogo dna zhenshchin (klinika, diagnostika, lechenie, profilaktika). Metodicheskie rekomendatsii. Ufa: BGMU; 2015. 78 p. (In Russ).]
Краснопольский В.И., Попов А.А. Вагинальная экстраперитонеальная кольпопексия (метод PROLIFT) новый взгляд на хирургию опущения и выпадения внутренних половых органов // Акушерство и гинекология. — 2007. ― №2 ― С. 51–55. [Krasnopol'skii VI, Popov AA. Vaginal'naya ekstroperitoneal'naya kol'popeksiya (metod PROLIFT) novyi vzglyad na khirurgiyu opushcheniya i vypadeniya vnutrennikh polovykh organov. Akush Ginekol (Mosk). 2007;(2):51–55. (In Russ).]
Bump RC, Mattiasson A, Bo K, et al. The standardization of terminology of female pelvic organ prolapse and pelvic floor dysfunction. Am J Obst et Gynecol. 1996;175(1):10−17. doi: 10.1016/S0002-9378(96)70243-0.
Weber AM, Richter HE. Pelvic organ prolapse. Obstet Gynecol. 2005;106(3):615−634. doi: 10.1097/01.AOG.0000175832.13266.bb.
Адамян Л.В., Смольнова Т.Ю., Яроцкая Е.Л., и др. Клинические, морфологические, медико-биологические и генетические аспекты пролапса гениталий у женщин // Проблемы репродукции. ― 2006. ― №5 — С. 104–105. [Adamyan LV, Smol'nova TYu, 7. Yarotskaya EL, et al. Klinicheskie, morfologicheskie, mediko-biologicheskie i geneticheskie aspekty prolapsa genitalii u zhenshchin. Problemy reproduktsii. 2006;(5):104–105. (In Russ).]
Буянова С.Н., Савельев С.В., Федоров А.А. Роль ДСТ в патогенезе пролапса гениталий // Российский вестник акушера-гинеколога. ― 2008. — №S9 — С. 8–11. [Buyanova SN, Savel'ev SV, Fedorov AA. Rol' DST v patogeneze prolapsa genitalii. Rossiiskii vestnik akushera-ginekologa. 2008;(S9):8–11. (InRuss).]
Херт В.Г. Оперативная урогинекология Пер. с англ. / Под ред. Лопаткина Н.А., Аполихина О.И. ― М.: ГЕОТАР-Медиа; 2003. — 276 с. [Hurt WG, editor. Urogynecologic surgery. Transl. from English. Ed by Lopatkin N.A., Apolikhin O.I. Moscow: GEOTAR-Media; 2003. 276 p. (In Russ).]
Петрос П. Женское тазовое дно. Функции, дисфункции и их лечение в соответствии с интегральной теорией. Пер. с англ. / Под ред. Шкарупы Д.Д. ― М.: МЕДпресс-информ; 2016. — 400 c. [Petros P. The female pelvic floor. Ed by Shkarupa D.D. Moscow: MEDpress-inform; 2016. 400 p. (In Russ).]
Кулаков В.И., Адамян Л.В., Мынбаев О.А., и др. Хирургическое лечение опущения и выпадения влагалища и матки / Cб. статей: Оперативная гинекология — хирургические энергии. ― М.; 2000. — С. 740–760. [Kulakov VI, Adamyan LV, Mynbaev OA, et al. Khirurgicheskoe lechenie opushcheniya i vypadeniya vlagalishcha i matki. In: Operativnaya ginekologiya — khirurgicheskie energii. Moscow: Meditsina; 2000. p. 740–760. (In Russ).]
Chen X, Tong X, Jiang M, et al. A modified inexpensive transobturator vaginal tape inside-out procedure versus tension-free vaginal tape for the treatment of SUI: a prospective comparative study. Arch Gynecol Obstet. 2011;284(6):1461–1466. doi: 10.1007/s00404-011-1871-4.
Уилисс К.Р. Атлас оперативной гинекологии. ― М.: Медицинская литература; 2007. — 532 с. [Wheeless CR. Atlas of pelvic surgery. Moscow: Meditsinskaya literatura; 2007. 532 p. (In Russ).]
Краснопольский В.И., Буянова С.Н., Щукина Н.А., Попов А.А. Оперативная гинекология. 2-е изд. ― М.: МЕДпресс-информ; 2013. — 320 с. [Krasnopolskii VI, Buyanova SN, Shchukina NA, Popov AA. Operativnaya gynekologiya. 2nd ed. Moscow: MEDpress-inform; 2013. 320 p. (In Russ).]
Хирш Х.А., Кезер О., Икле Ф.А. Оперативная гинекология. Атлас. Пер. с англ. / Под ред. Кулакова В.И., Федорова И.В. ― М.: ГЕОТАР-Медиа; 2007. — 756 с. [Hirsch HA, Käser O, Ikl FA. Atlas of gynecological surgery. Transl. from English. Ed by Kulakov V.I., Fedorov I.V. Moscow: GEOTAR Media; 2007. 756 p. (In Russ).]
Murray S, Haverkorn RM, Lotan Y, Lemack GE. Mesh kits for anterior vaginal prolapse are not cost effective. Int Urogynecol J. 2011;22(4):447–452. doi: 10.1007/s00192-010-1291-1.
Nieminen K, Hiltunen R, Takala T, et al. Outcomes after anterior vaginal wall repair with mesh: a randomized, controlled trial with a 3 year follow-up. Am J Obstet Gynecol. 2010;203(3): 235.e1–235.e8. doi: 10.1016/j.ajog.2010.03.030.
Куликовский В.Ф., Олейник Н.В. Тазовый пролапс у женщин. Руководство для врачей. ― М.: ГЭОТАР-Медиа; 2008. — 255 с. [Kulikovskii FV, Oleinik NV. Tazovyi prolaps u zhenshchin. Rukovodstvo dlya vrachei. Moscow: GEOTAR-Media; 2008. 255 p. (In Russ).]
Ashton-Miller JA, DeLancey JO. Functional anatomy of the female pelvic floor. Ann N Y Acad Sci. 2007;1101:266–296. doi: 10.1196/annals.1389.034.