Comparative Cohort Epidemiological Study of Collective Immunity against New Coronavirus Infection among Different Groups of Military Personnel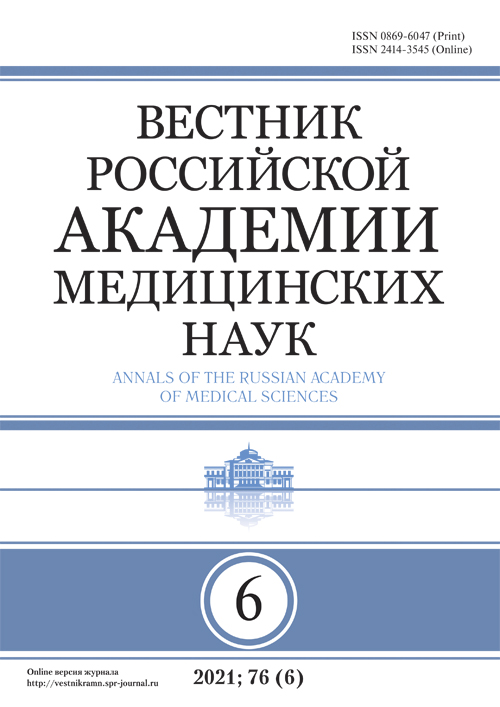 Cite item
Full Text

Open Access

Access granted

Subscription or Fee Access
Abstract
Background. The need to study the population immunity to the SARS-CoV-2 virus is due to the intensive spread of COVID-19 and the implementation of immunoprophylaxis of this infection. The identification of the features of the formation of immunoresistance in organized military collectives will allow us to predict the development of the epidemic situation, including among comparable population groups.
Aims — the study of population immunity to the SARS-CoV-2 virus in the context of the COVID-19 pandemic against the background of specific immunoprophylaxis in organized military collectives.
Methods. According to epidemiological indications, an epidemiological study of collective immunity to the SARS-CoV-2 virus was conducted against the background of vaccination among cadets of military educational organizations. The study involved 497 people, divided into groups by epidemiological and vaccination history for COVID-19, blood groups and Rh factor. The assessment of the immunity intensity was carried out by the levels of class G immunoglobulins (IgG) to SARS-CoV-2 in the blood serum by the method of solid-phase enzyme immunoassay.
Results. Seroprevalence in the total sample was 92.6%. The highest rates were observed among vaccinated patients: those who were not ill and vaccinated — 99.0 ± 0.7%, those who were ill and vaccinated-100% (mean geometric antibody titers — 1:2234 and 1:4399). Among the ill, unvaccinated individuals, the seroprevalence index was 84.5 ± 3.2% (1:220). Among those who were not ill, not vaccinated — 8.2 ± 3.1% (1:113), which may indicate a hidden course of the epidemic process in the team. A negative immune response was more common (tSt = 2.01; p < 0.05) in individuals A(II)Rh+ blood group. The highest proportion of maximum antibody titers (1:3200–1:6400) was determined in AB(IV) individuals. Rh-blood groups (tSt=2.21; p < 0.05).
Conclusions. For the first time, the formation of combined immunity with the highest concentrations of specific antibodies was revealed in patients who have been ill and vaccinated has been revealed, which allows us to recommend vaccination to those who have suffered from COVID-19. The emergence of post-infectious immunity in organized groups with a latent epidemic process has been established. The relationship between the intensity of immunity with blood groups and the Rh factor was found.
Full Text

About the authors
S.M. Kirov Military Medical Academy of the Ministry of Defense of the Russian Federation
Author for correspondence.
Email: Evgeniy.md@mail.ru
ORCID iD: 0000-0002-8396-1936
SPIN-code: 3900-3441
Scopus Author ID: 57208311867

MD, PhD, Professor, Corresponding Member of the RAS
Russian Federation, 6, Ak. Lebedeva str., Saint Petersburg, 194044
S.M. Kirov Military Medical Academy of the Ministry of Defense of the Russian Federation
Email: vmeda-nio@mil.ru
SPIN-code: 1082-0719

MD, PhD
Russian Federation, 6, Ak. Lebedeva str., Saint Petersburg, 194044
S.M. Kirov Military Medical Academy of the Ministry of Defense of the Russian Federation
Email: iamvma@mail.ru
ORCID iD: 0000-0002-8899-7524
SPIN-code: 6971-1744
Scopus Author ID: 56034245200

MD, PhD, Professor, Corresponding Member of the RAS
Russian Federation, 6, Ak. Lebedeva str., Saint Petersburg, 194044
S.M. Kirov Military Medical Academy of the Ministry of Defense of the Russian Federation
Email: 79112998764@yandex.ru
ORCID iD: 0000-0001-8408-5301
SPIN-code: 5437-3457
Scopus Author ID: 36185599800

MD, PhD
Russian Federation, 6, Ak. Lebedeva str., Saint Petersburg, 194044
S.M. Kirov Military Medical Academy of the Ministry of Defense of the Russian Federation
Email: paster-spb@mail.ru
ORCID iD: 0000-0001-9154-7017
SPIN-code: 6220-1218

MD, PhD, Assistant Professor
Russian Federation, 6, Ak. Lebedeva str., Saint Petersburg, 194044
S.M. Kirov Military Medical Academy of the Ministry of Defense of the Russian Federation
Email: lantsov83@mail.ru
ORCID iD: 0000-0001-7462-173X
SPIN-code: 4384-2924

MD, PhD
Russian Federation, 6, Ak. Lebedeva str., Saint Petersburg, 194044
S.M. Kirov Military Medical Academy of the Ministry of Defense of the Russian Federation
Email: asvdoc@rambler.ru
ORCID iD: 0000-0001-9392-2220
SPIN-code: 5536-5620
Russian Federation, 6, Ak. Lebedeva str., Saint Petersburg, 194044
S.M. Kirov Military Medical Academy of the Ministry of Defense of the Russian Federation
Email: andrey73-2010@mail.ru
ORCID iD: 0000-0001-7791-8993
SPIN-code: 4281-2680

MD, PhD
Russian Federation, 6, Ak. Lebedeva str., Saint Petersburg, 194044
References
Маянский Н.А. Иммунитет к COVID-19 и вопросы проведения скрининговых исследований антител к SARS-CoV-2 // Вестник РГМУ. — 2020. — № 3. — С. 27–30. [Mayanskij N.A. Immunitet k COVID-19 i voprosy provedeniya skriningovyh issledovanij antitel k SARS-CoV-2. Vestnik RGMU. 2020;3:27–30. (In Russ.)]. doi: https://doi.org/10.24075/vrgmu.2020.035
Zhao J. Antibody Responses to SARS-CoV-2 in Patients with Novel Coronavirus Disease 2019. Clin Infect Dis. 2020;19:71(16):2027–2034. doi: https://doi.org/10.1093/cid/ciaa344
Suhandynata RT, Hoffman MA, Kelner MJ, et al. Longitudinal Monitoring of SARS-CoV-2 IgM and IgG Seropositivity to Detect COVID-19. J Appl Lab Med. 2020;5(5):908-920. doi: https://doi.org/10.1093/jalm/jfaa079
Dan JM, Mateus J, Kato Y, et al Immunological memory to SARS-CoV-2 assessed for up to 8 months after infection. Scince. 2021;371(6529):eabf4063. doi: https://doi.org/10.1126/science. abf4063
Попова А.Ю., Ежлова Е.Б., Мельникова А.А., и др. Коллективный иммунитет к вирусу SARS-CоV-2 среди жителей Москвы в эпидемический период COVID-19 // Инфекционные болезни. — 2020. — Т. 18. — № 4.. — С. 8–16. [Popova AYu, Ezhlova EB, Mel'nikova AA, et al. Collective immunity to SARS-CoV-2 of Moscow residents during the COVID-19 epidemic period. Infectious Diseases. 2020;18(4):8–16. (In Russ.)]. doi: https://doi.org/10.20953/1729-9225-2020-4-8-16
Попова А.Ю., Ежлова Е.Б., Мельникова А.А., и др. Популяционный иммунитет к SARS-CoV-2 населения Калиниградской области в эпидемический сезон COVID-19 // Журнал инфектологии. — 2020. — Т. 12. — № 5. – С. 62–71. [Popova AYu, Ezhlova EB, Mel'nikova AA, et al. Herd immunity of SARS-CoV-2 among the population of Kalinigrad region amid the CoVID-19 epidemic. Journal of Infectology. 2020;12(5): 62–71. (In Russ.)] doi: https://doi.org/10.22625/2072-6732-2020-12-5-62-71
Попова А.Ю., Ежлова Е.Б., Мельникова А.А., и др. Популяционный иммунитет к вирусу SARS-CoV-2 среди населения Санкт-Петербурга в период эпидемии COVID-19 // Проблемы особо опасных инфекций. — 2020. — № 3. — С. 124–130. [Popova AYu, Ezhlova EB, Mel'nikova AA, et al. Herd Immunity to SARS-CoV-2 among the Population in Saint Petersburg during the COVID-19 Epidemic. Problems of Particularly Dangerous Infections. 2020;(3):124–130. (In Russ.)] doi: https://doi.org/10.21055/0370-1069-2020-3-124-130
Попова А.Ю., Ежлова Е.Б., Мельникова А.А., и др. Оценка популяционного иммунитета к SARS-CoV-2 среди населения Ленинградской области в период эпидемии COVID-19 // Проблемы особо опасных инфекций. — 2020. — № 3. — С. 114–123. [Popova AYu, Ezhlova EB, Mel'nikova AA, et al. Assessment of the Herd Immunity to SARS-CoV-2 among the Population of the Leningrad Region during the COVID-19 Epidemic. Problems of Particularly Dangerous Infections. 2020;(3):114–123. (In Russ.)] doi: https://doi.org/10.21055/0370-1069-2020-3-114-123
Logunov DY, Dolzhikova IV, Shcheblyakov DV, et al. Safety and efficacy of an rAd26 and rAd5 vector-based heterologous prime-boost COVID-19 vaccine: an interim analysis of a randomised controlled phase 3 trial in Russia. Lancet. 2021;397(10275):671–681. doi: https://doi.org/10.1016/S0140-6736(20)31866-3
Постановление Правительства РФ от 04.07.2013 № 565 (ред. от 01.06.2020) «Об утверждении Положения о военно-врачебной экспертизе». [Postanovlenie Pravitel'stva RF ot 04.07.2013 № 565 (red. ot 01.06.2020) "Ob utverzhdenii Polozheniya o voenno-vrachebnoj ekspertize". (In Russ.)]
Санитарные правила СП 1.2.036-95. Порядок учета, хранения, передачи и транспортирования микроорганизмов I–IV групп патогенности. [Sanitarnye pravila SP 1.2.036-95. Poryadok ucheta, hraneniya, peredachi i transportirovaniya mikroorganizmov I–IV grupp patogennosti. (In Russ.)]
МУ 3.1.3490-17. Эпидемиология. Профилактика инфекционных болезней. Изучение популяционного иммунитета к гриппу у населения Российской Федерации (утв. Главным государственным санитарным врачом РФ 27 октября 2017 г.). MU 3.1.3490-17. [Epidemiologiya. Profilaktika infekcionnyh boleznej. Izuchenie populyacionnogo immuniteta k grippu u naseleniya Rossijskoj Federacii (utv. Glavnym gosudarstvennym sanitarnym vrachom RF 27 oktyabrya 2017 g.). (In Russ.)]
Трухачева Н.В. Математическая статистика в медико-биологических исследованиях с применением пакета Statistica. — М.: ГЭОТАР-Медиа, 2013. — 384 с. [Truhacheva NV. Matematicheskaya statistika v mediko-biologicheskih issledovaniyah s primeneniem paketa Statistica. Moscow: GEOTAR-Media; 2013. 384 s. (In Russ.)]
Supplementary files
Supplementary Files
Action