Problems of Psycho-Emotional Well-Being of Medical Personnel Working in the Context of the COVID-19 Pandemic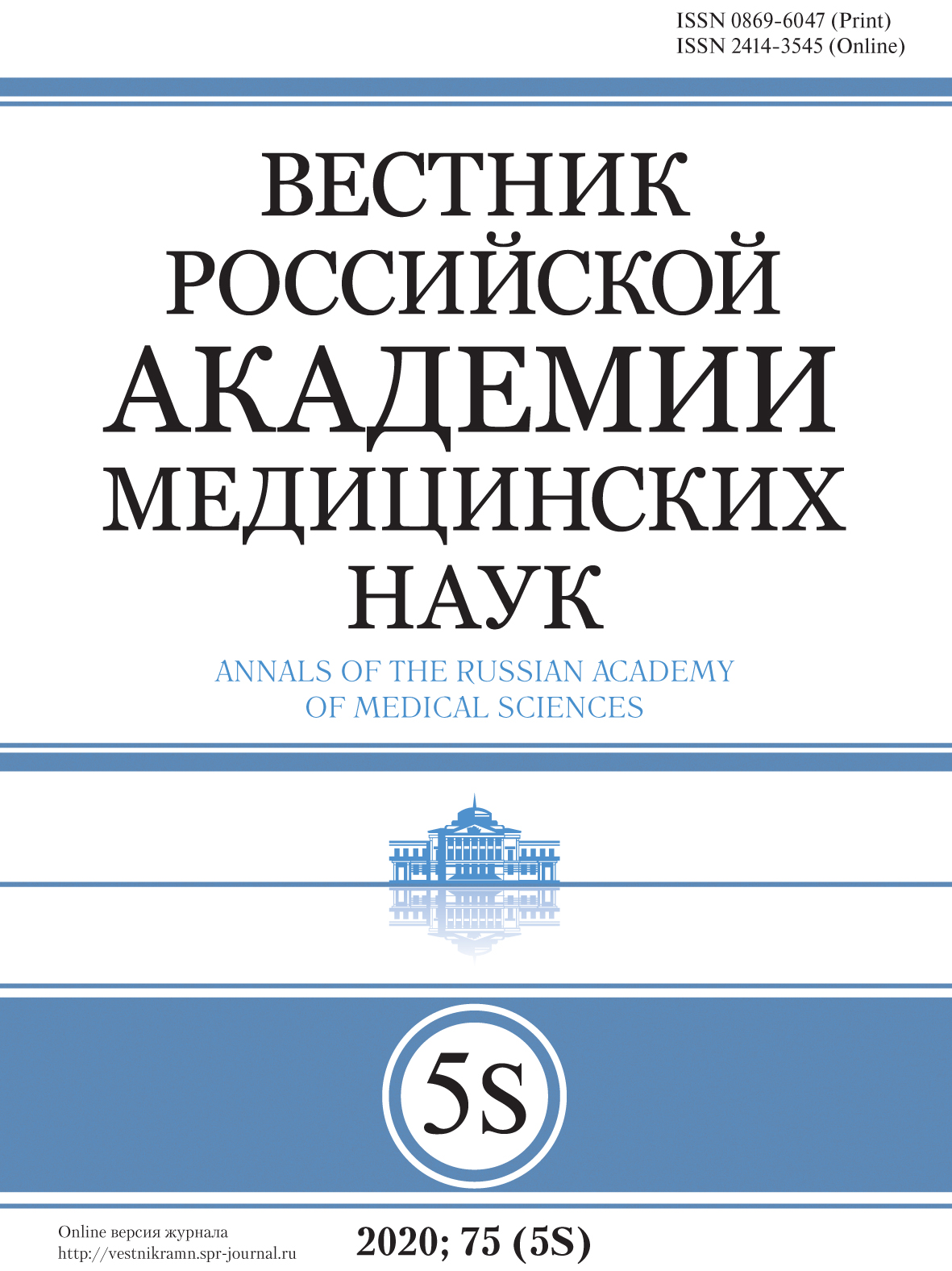 Authors: Samushiya M.A. 1, Ragimova A.A. 1, Amosova N.A. 2, Smolentseva I.G. 2, Oinotkinova O.S. 3, Bonkalo T.I. 3, Berishvili T.Z. 1
Affiliations:

Central State Medical Academy of Department of Presidential Affairs
Central Clinical Hospital with Polyclinic of Medical Center the Administrative, Department of the President of the Russian Federation
Research Institute of Health Organization and Medical Management of Department of Health of the City of Moscow

Issue: Vol 75, No 5S (2020)
Pages: 426-433
Section: INFECTIOUS DISEASES: CURRENT ISSUES
Abstract
Background. The COVID-19 pandemic has a significant impact on the mental state of not only quarantined citizens and patients, but also health workers.
Aims — asessment of the mental health of doctors involved in work in the "red zone" during the COVID-19 pandemic.
Materials and methods. 77 respondents were interviewed using the HADS questionnaires and the Maslach burnout test. For statistical data processing Microsoft Office Excel 2016, IBM SPSS were used.
Results. An increase on the depression scales was noted in 7%, anxiety in 23%, and anxiety and depression together 27%. According to the Maslach questionnaire, 32 doctors (41.5%) noted a reaction of the type of "emotional devastation". 10 doctors (12.9%) noted a reaction "reduction of professional achievements". Three doctors (3.8%) had a dehumanization reaction in the form of dull emotions to colleagues and patients.
Conclusions. Work in the "red zone" has a significant negative impact on the mental health of doctors and medical personnel.
Keywords
Full Text

About the authors
Central State Medical Academy of Department of Presidential Affairs
Author for correspondence.
Email: sma-psychiatry@mail.ru
ORCID iD: 0000-0003-3681-9977
SPIN-code: 8196-3652

Russian Federation, 19 bld 1A, Marshal Timoshenko str., 121359, Moscow

MD, PhD, Professor
Central State Medical Academy of Department of Presidential Affairs
Email: ragimovaasia@gmail.com
ORCID iD: 0000-0002-4370-4249
SPIN-code: 8489-7627

Russian Federation, Moscow

Research Associate
Central Clinical Hospital with Polyclinic of Medical Center the Administrative, Department of the President of the Russian Federation
Email: kb6nso@mail.ru
ORCID iD: 0000-0001-9172-153X

Russian Federation, Moscow

MD, PhD
Central Clinical Hospital with Polyclinic of Medical Center the Administrative, Department of the President of the Russian Federation
Email: smolik_71@mail.ru
ORCID iD: 0000-0002-5569-6688

Russian Federation, Moscow

MD, PhD, Professor
Research Institute of Health Organization and Medical Management of Department of Health of the City of Moscow
Email: olga-oynotkinova@yandex.ru
ORCID iD: 0000-0002-9856-8643
SPIN-code: 7783-6965

Russian Federation, Moscow

MD, Professor
Research Institute of Health Organization and Medical Management of Department of Health of the City of Moscow
Email: bonkalotatyanaivanovna@yandex.ru
ORCID iD: 0000-0003-0887-4995
SPIN-code: 6572-7417

Russian Federation, Moscow

PhD in Psychological Sciences, Associate Professor
Central State Medical Academy of Department of Presidential Affairs
Email: tamrikoshkaberry@gmail.com
ORCID iD: 0000-0003-0958-2409
SPIN-code: 1704-2816

Russian Federation, Moscow

Assistant
References
Weiss SR, Navas-Martin S. Coronavirus Pathogenesis and the Emerging Pathogen Severe Acute Respiratory Syndrome Coronavirus. Microbiol Mol Biol Rev. 2005;69(4):635–664. doi: https://doi.org/10.1128/mmbr.69.4.635-664.2005
Su S, Wong G, Shi W, et al. Epidemiology, Genetic Recombination, and Pathogenesis of Coronaviruses. Trends Microbiol. 2016;24(6):490–502. doi: https://doi.org/10.1016/j.tim.2016.03.003
Bouey J. From SARS to 2019-Coronavirus (nCoV): U.S.–China Collaborations on Pandemic Response: Addendum. Santa Monica, CA: RAND Corporation, 2020. doi: https://doi.org/10.7249/ct523
Yang Y, Peng F, Wang R, et al. The deadly coronaviruses: The 2003 SARS pandemic and the 2020 novel coronavirus epidemic in China. J Autoimmun. 2020;109:102434. doi: https://doi.org/10.1016/j.jaut.2020.102434
Maunder R, Hunter J, Vincent L, et al. The immediate psychological and occupational impact of the 2003 SARS outbreak in a teaching hospital. CMAJ. 2010;168(10):1245–1251.
Li W, Yang Y, Liu Z-H, et al. Progression of Mental Health Services during the COVID-19 Outbreak in China. Int J Biol Sci. 2020;16(10):1732–1738. doi: https://doi.org/10.7150/ijbs.45120
Kang L, Li Y, Hu S, et al. The mental health of medical workers in Wuhan, China dealing with the 2019 novel coronavirus. Lancet Psychiatry. 2020;7(3):e14. doi: https://doi.org/10.1016/s2215-0366(20)30047-x
Lai J, Ma S, Wang Y, et al. Factors Associated with Mental Health Outcomes Among Health Care Workers Exposed to Coronavirus Disease 2019. JAMA Netw Open. 2020;3(3). doi: https://doi.org/10.1001/jamanetworkopen.2020.3976
Lu Y-C, Shu B-C, Chang Y-Y, Lung F-W. The Mental Health of Hospital Workers Dealing with Severe Acute Respiratory Syndrome. Psychother Psychosom. 2006;75(6):370–375. doi: https://doi.org/10.1159/00009544
Spoorthy MS, Pratapa SK, Mahant S. Mental health problems faced by healthcare workers due to the COVID-19 pandemic — A review. Asian J Psychiatr. 2020;51:102–119. doi: https://doi.org/10.1016/j.ajp.2020.102119
Liang Y, Chen M, Zheng X, Liu J. Screening for Chinese medical staff mental health by SDS and SAS during the outbreak of COVID-19. J Psychosom Res. 2020;133:110–102. doi: https://doi.org/10.1016/j.jpsychores.2020.110102
Cai H, Tu B, Ma J, et al. Psychological impacts and coping strategies of front-line medical staff during COVID-19 outbreak in Hunan, China. Med Sci Monit. 2020;26:e924171-1–e924171-16. doi: https://doi.org/10.12659/msm.924171
Zigmond AS, Snaith RP. The hospital anxiety and depression scale. Acta Psychiatrica Scandinavica. 1983;67(6):361–370. doi: https://doi.org/10.1111/j.1600-0447.1983.tb09716.x
Лозинская Е.И., Лутова Н.Б., Вид В.Д. Системный индекс синдрома перегорания (на основе теста MBI). Методические рекомендации. — М.: НИПНИ им. Бехтерева, 2007. [Lozinskaya EI, Lutova NB, Vid VD. Sistemnyj indeks sindroma peregoraniya (na osnove testa MBI). Metodicheskie rekomendacii. Moscow: NIPNI im. Bekhtereva; 2007. (In Russ.)]
Водопьянова Н.Е., Старченкова Е.С. Синдром выгорания: диагностика и профилактика. — СПб.: Питер, 2008. — 358 с. [Vodop'yanova NE, Starchenkova ES. Sindrom vygoraniya: diagnostika i profilaktika. Sankt-Peterburg: Piter; 2008. 358 p. (In Russ.)]
Luceño-Moreno L, Talavera-Velasco B, García-Albuerne Y, Martín-García J. Symptoms of Posttraumatic Stress, Anxiety, Depression, Levels of Resilience and Burnout in Spanish Health Personnel during the COVID-19 Pandemic. Int J Environ Res Public Health. 2020;17(15):5514. [Published online 2020 Jul 30]. doi: https://doi.org/10.3390/ijerph17155514
Ying Y, Ruan L, Kong F, et al. Mental health status among family members of health care workers in Ningbo, China, during the coronavirus disease 2019 (COVID-19) outbreak: a cross-sectional study. BMC Psychiatry. 2020;20:379. doi: https://doi.org/10.1186/s12888-020-02784-w
Wu P, Fang Y, Guan Z, et al. The psychological impact of the SARS epidemic on hospital employees in China: Exposure, risk perception, and altruistic acceptance of risk. Can J Psychiatry. 2009;54(5):302–311. doi: https://doi.org/10.1177/070674370905400504
Reynolds DL, Garay JR, Deamond SL, et al. Understanding, compliance and psychological impact of the SARS quarantine experience. Epidemiol Infect. 2008;136(7):997–1007. doi: https://doi.org/10.1017/S0950268807009156