Endocrine ophthalmopathy: pharmacogenetic markers of efficiency of glucocorticoid therapy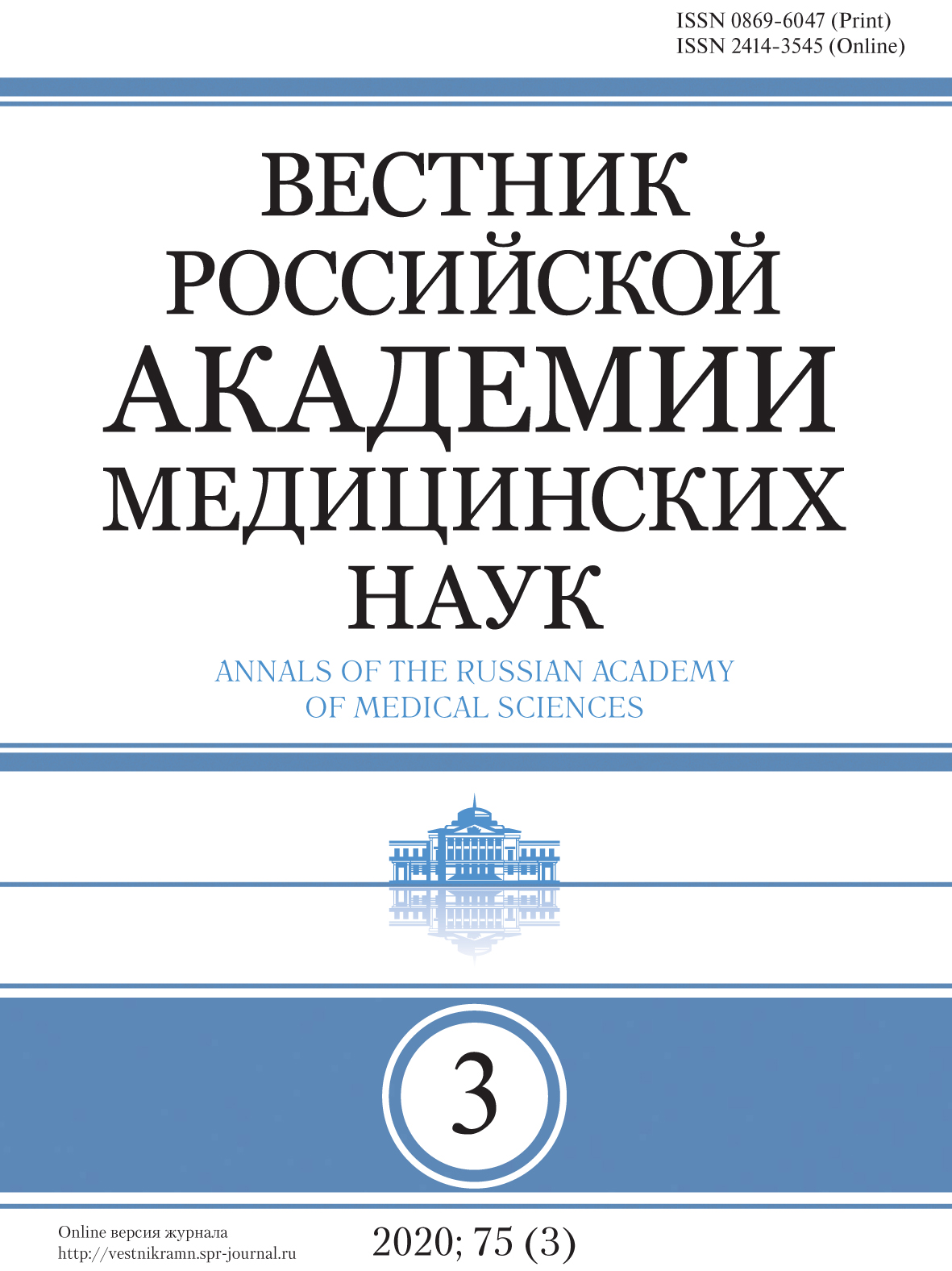 Authors: Toropova O.S. 1, Brovkina A.F. 1, Sychev D.A. 1
Affiliations:

Russian Medical Academy of Continuous Professional Education

Issue: Vol 75, No 3 (2020)
Pages: 250-255
Section: ENDOCRINOLOGY: CURRENT ISSUES
Abstract
The pathological process of endocrine ophthalmopathy is based on damage to the soft tissues of the orbit against the background of impaired thyroid function and even its euthyroid state. The pathogenetic mechanisms of the development of clinical symptoms of endocrine ophthalmopathy (EOP) are based on morphological changes in extraocular muscles (EOM) and orbital tissue: cellular tissue infiltration by representatives of the immune system (T- and B-lymphocytes, macrophages, mast and plasma cells), with the production of pro-inflammatory cytokines, fibroblasts and glycosaminoglycans, contributing to an increase in the contents of the orbit in volume with the development of exophthalmos and tissue fibrosis at the end of the inflammatory process. Glucocorticoids are the "gold standard" for the pathogenetic treatment of patients with clinical forms of endocrine ophthalmopathy: edematous exophthalmos and endocrine myopathy. The properties of drugs of this group are such that they can be used to suppress all stages of inflammation in the orbital tissues, preventing the progression of the disease. Despite the many years of experience in applying various glucocorticoid therapy techniques, to date there are no uniform criteria for the effectiveness of this treatment in patients with endocrine ophthalmopathy. The article presents the features of glucocorticoid therapy of endocrine ophthalmopathy, as well as literature data, on the basis of which attempts have been made to explain the causes of glucocorticoid resistance taking into account the pharmacogenetic profile.
Full Text

About the authors
Russian Medical Academy of Continuous Professional Education
Author for correspondence.
Email: olya_toropova@mail.ru
ORCID iD: 0000-0003-1474-1216
SPIN-code: 3894-6802

Russian Federation, 2/1 p. 1 Barricadnaya str., 125993 Moscow

Russian Medical Academy of Continuous Professional Education
Email: anab@list.ru
ORCID iD: 0000-0002-9940-1642
SPIN-code: 7973-6793

Russian Federation, Moscow

MD, PhD, Professor
Russian Medical Academy of Continuous Professional Education
Email: rmapo@rmapo.ru
SPIN-code: 4525-7556

Russian Federation, Moscow

MD, PhD, Professor
References
Бровкина А.Ф., Стоюхина А.С. Классификация эндокринной офтальмопатии // Проблемы эндокринологии. — 2006. — Т.52. — №5. — С. 11–15. [Brovkina AF, Stoyukhina AS. Classification of endocrine ophthalmopathy. Problems of endocrinology. 2006;52(5):11–15. (In Russ).]
Kinsell LW, Partridge JW, Foreman N. The use of ACTH and cortisone in the treatment and in the differentia ldiagnosis of malignant exophthalmos. Ann Intern Med. 1953;38(5):913–917. doi: 10.7326/0003-4819-38-5-913.
Brent GA. Clinical practice. Graves' disease. N Engl J Med. 2008;358(24):2594–2605. doi: 10.1056/NEJMcp0801880.
Бровкина А.Ф., Яценко О.Ю., Аубакирова А.С. Мослехи Ш. Липогенный вариант отечного экзофтальма (клиника, лечение) // Вестник офтальмологии. — 2008. — Т.124. — №2. — C. 28–30. [Brovkina AF, Yatsenko OYu, Aubakirova AS, Moslekhi Sh. Lipogenic type of edematous exophthalmos: clinical picture, treatment. Annals of ophthalmology. 2008;124(2):28–30. (In Russ).]
Бровкина А.Ф. Современные аспекты патогенеза и лечения эндокринной офтальмопатии // Вестник РАМН. — 2003. — №5. — С. 47–55. [Brovkina AF. Recent aspects of pathogenesis and treatment of endocrinous ophthalmopathy. Annals of the Russian Academy of Medical Sciences. 2003;(5):47–55. (In Russ).]
Меркулов В.М., Климова Н.В., Меркулова Т.И. Рецептор глюкокортикоидов: переход из цитоплазмы в клеточное ядро, хроматиновый и внутриядерный шапероновый циклы // Вавиловский журнал генетики и селекции. — 2015. — Т.19. — №3. — С. 255–263. [Merkulov VM, Klimova NV, Merkulova TI. Glucocorticoid receptor: translocation from the cytoplasm to the nuclei, chromatin and intranuclear chaperone cycles. Vavilov journal of genetics and breeding. 2015;19(3):255–263. (In Russ).]
Кукес В.Г. Клиническая фармакология / Под ред. В.Г. Кукеса, Д.А. Сычева. — М.: ГЭОТАР-Медиа, 2018. ― 1024 с. [Kukes VG. Klinicheskaya farmakologiya. Ed by V.G. Kukes, D.A. Sychev. Moscow: GEOTAR-Media; 2018 (In Russ).]
Evans WE, McLeod HL. Pharmacogenomics-drug disposition, drug targets, and side effects. N Engl J Med. 2003;348(6):538−549. doi: 10.1056/NEJMra020526.
Середенин С.Б. Лекции по фармакогенетике. — М.: МИА, 2004. — 303 с. [Seredenin SB. Lektsii po farmakogenetike. Moscow: MIA; 2004. 303 р. (In Russ).]
Бочков Н.П. Генетические подходы к оценке безопасности и эффективности лекарственных средств // Клинические исследования лекарственных средств в России. — 2002. — №2. — С. 4−6. [Bochkov NP. Geneticheskie podkhody k otsenke bezopasnosti i effektivnosti lekarstvennykh sredstv. Klinicheskie issledovaniia lekarstvennykh sredstv v Rossii. 2002;(2):4−6. (InRuss).]
Weinshilboum R. Inheritance and drug response. N Engl J Med. 2003;348(6):529−537.doi: 10.1056/NEJMra020021.
Evans RM. The steroid and thyroid hormone receptor superfamily. Science.1988;240(4854):889–895.doi: 10.1126/science.3283939.
Grad I, Picard D. The glucocorticoid responses are shaped by molecular chaperones. Mol Cell Endocrinol. 2007;275(1-2):2–12. doi: 10.1016/j.mce.2007.05.018.
Pratt WB, Toft DO. Steroid receptor interactions with heat shock protein and immunophilin chaperones. Endocr Rev. 1997;18(3):306–360.doi: 10.1210/edrv.18.3.0303.
Bray PJ, Cotton RG. Variations of the human glucocorticoid receptor gene (NR3C1): pathological and in vitro mutations and polymorphisms. Hum Mutat. 2003;21(6):557−568. doi: 10.1002/humu.10213.
Baxter JD, Tomkins GM. Specific cytoplasmic glucocorticoid hormone receptors in hepatoma tissue culture cells. Proc Natl Acad Sci USA. 1971;68(5):932−937.doi: 10.1073/pnas.68.5.932.
Beato M, Kalimi M, Feigelson P. Correlation between glucocorticoid binding to specific liver cytosol receptors and enzyme induction in vivo. Biochem Biophys Res Commun. 1972;47(6):1464−1472. doi: 10.1016/0006-291x(72)90237-9.
Higgins SJ, Rousseau GG, Baxter JD, Tomkins GM. Early events in glucocorticoid action. Activation of the steroid receptor and its subsequent specific nuclear binding studied in a cell-free system. J Biol Chem. 1973;248(16):5866−5872.
Rousseau GG, Higgins SJ, Baxter JD, et al. Binding of glucocorticoid receptors to DNA. J Biol Chem. 1975;250(15):6015−6021.
Simons SS, Martinez HM, Garcea RL, et al. Interaction of glucocorticoid receptor-steroid complexes with acceptor sites. J Biol Chem. 1976;251(2):334−343.
Robert HO, John AC. The biology of the glucocorticoid receptor: new signaling mechanisms in health and disease. J Allergy Clin Immunol. 2013;132(5):1033–1044. doi: 10.1016/j.jaci.2013.09.007.
Barnes PJ, Adcock IM. Glucocorticoid resistance in inflammatory diseases. Lancet. 2009;373(9678):1905–1917. doi: 10.1016/S0140-6736(09)60326-3.
Haarman EG, Kaspers GJ, Veerman AJ. Glucocorticoid resistance in childhood leukaemia: mechanisms and modulation. Brit J Haematol. 2003;120(6):919–929. doi: 10.1046/j.1365-2141.2003.04189.x.
Lei SF, Deng FY, Liu XH, et al. Polymorphisms of four bone mineral density candidate genes in Chinese populations and comparison with other populations of different ethnicity. J Bone Miner Metab. 2003;21(1):34−42. doi: 10.1007/s007740300006.
Grobbee DE, de Jong FH, van Duyn CM, et al. A polymorphism in the glucocorticoid receptor gene, which decreases sensitivity to glucocorticoids in vivo, is associated with low insulin and cholesterol levels. Diabetes. 2002;51(10):3128−3134.doi: 10.2337/diabetes.51.10.3128.
Орловский М.А. Аллельный полиморфизм рецептора глюкокортикоидных гормонов NR3C1 (GR): от молекулярной биологии к клинике // Biopolymersand Cell. — 2012. — Т.28. — №5. — С. 338–351. [Orlovskiy MA. Allelic polymorphism of glucocorticoid receptor NR3C1 (GR): from molecular biology to clinical implications. Biopolymers and cell. 2012;28(5):338–351. (In Russ).] doi: 10.7124/bc.000061.
Приступа Л.Н., Кмыта В.В., Савченко О.В. Ген глюкокортикоидного рецептора: структура, полиморфизм и клинические ассоциации // Georgian Medical News. — 2013. —№219. — С. 53−57. [Pristupa LN, Kmyta VV, Savchenko OV. Gen gliukokortikoidnogo retseptora: struktura, polimorfizm i klinicheskie assotsiatsii. Georgian Medical News. 2013;(219):53−57.(In Russ).]
Lin RC, Wang WY, Morris BJ. High penetrance, overweight, and glucocorticoid receptor variant: case-control study. Br Med J. 1999;319(7221):1337−1338. doi: 10.1136/bmj.319.7221.1337.
Strickland I, Kisich K, Hauk PJ, et al. High constitutive glucocorticoid receptor beta in human neutrophils enables them to reduce their spontaneous rate of cell death in response to corticosteroids. J Exp Med. 2001;193(5):585−593. doi: 10.1084/jem.193.5.585.
Lange P, Koper J, Brinkmann A. Natural variants of the beta-isoform of the human glucocorticoid receptor do not alter sensitivity to glucocorticoids. Mol Cell Endocrinol. 1999;153(1-2):163−168.doi: 10.1016/s0303-7207(99)00072-6.
Grzanka A, Rogala B. Molecular mechanism of glucocorticoids and difficult asthma. Allerg Asthma Immunol. 2000;5:247−252.
Ikeda Y, Suehiro T, Shiinoki T, et al. A polymorphism in the promoter region of the glucocorticoid receptor gene is associated with its transcriptional activity. Endocr J. 2001;48(6):723−726.doi: 10.1507/endocrj.48.723.
Gross KL, Cidlowski JA. Tissue-specific glucocorticoid action: a family affair. Trends Endocrinol Metab. 2008;19(9):331–339. doi: 10.1016/j.tem.2008.07.009.
Vannucchi G, Covelli D, Campi I, et al. The therapeutic outcomes of intravenous steroids therapy for active Graves orbitopathy is influenced by the time of response but not polymorph of the glucocorticoid receptor. Eur J Endocrinol. 2013;170(1):55−61. doi: 10.1530/EJE-13-0611.
Саакян С.В., Пантелеева О.Г., Батырбекова Ф.Х., и др. Генетические факторы развития резистентности к глюкокортикоидам у больных эндокринной офтальмопатией // Эффективная фармакотерапия. — 2019. — Т.15. — №33. — С. 18–23. [Saakyan SV, Panteleyeva OG, Batyrbekova FH, et al. Genetic factors of glucocorticoid resistance in patients with grave›s ophthalmopathy. Effektivnaya farmakoterapiya. 2019;15(33):18–23. (In Russ).] doi: 10.33978/2307-3586-2019-15-33-18-23.
Van Rossum EF, Lamberts SW. Polymorphisms in the glucocorticoid receptor gene and their associations with metabolic parameters and body composition. Recent Prog Horm Res. 2004;59:333–357. doi: 10.1210/rp.59.1.333.
Jewell CM, Cidlowski JA. Molecular evidence for a link between the N363S glucocorticoid receptor polymorphism and altered gene expression. J Clin Endocrinol Metab. 2007;92(8):3268–3277. doi: 10.1210/jc.2007-0642.
Turner JD, Alt SR, Cao L, еt al. Transcriptional control of the glucocorticoid receptor: CpGislands, epigenetic sand more. Biochem Pharmacol. 2010;80(12):1860−1868.doi: 10.1016/j.bcp.2010.06.037.
De Rijk R, Schaaf M, de Kloet E. Glucocorticoid receptor variants: clinical implications. J Steroid Biochem Mol Biol. 2002;81(2):103−122. doi: 10.1016/s0960-0760(02)00062-6.
Quax RA, Koper JW, Huisman AM, еt al. Polymorphisms in the glucocorticoid receptor gene and in the glucocorticoidinduced transcript 1 gene are associated with disease activity and response to glucocorticoid bridging therapy in rheumatoid arthritis. Rheumatol Int. 2015;35(8)1325−1333. doi: 10.1007/s00296-015-3235-z.
Залетова Н.К., Востокова Л.П., Чухловин A.Б., и др. Генетические факторы, влияющие на эффективность терапии глюкокортикоидами при хронических воспалительных заболеваниях кишечника у детей // Педиатр. — 2015. — Т.6. — №3. — С. 91–97. [Zaletova NK, Vostokova LP, Chukhlovin AB, et al. Genetic factors modifying response to glucocorticoid treatment in chronic pediatric inflammatory bowel diseases. Pediatr. 2015;6(3):91–97. (In Russ).]
Keskin O, Uluca U, Birben E. Genetic associations of the response to inhaled corticosteroids in children during an asthma exacerbation. Pediatr Allergy Immunol. 2016;27(5):507−513. doi: 10.1111/pai.12566.
Backes WL, Kelley RW. Organization of multiple cytochrome P450s with NADPH-cytochrome P450 reductase in membranes. Pharmacol and Ther. 2003;98(2):221−233.doi: 10.1016/s0163-7258(03)00031-7.
Danielson PB. The cytochrome P450 superfamily: biochemistry, evolution and drug metabolism in humans. Current Drug Metabolism. 2002;3(6):561−597.doi: 10.2174/1389200023337054.
Кукес В.Г., Сычев Д.А., Гасанов Н.А. Проблемы клинической фармакогенетики на современном этапе // Клиническая медицина. — 2007. — Т.85. — №2. — C. 58–63. [Kukes VG, Sychev DA, Gasanov NA. Present-day problems of clinical pharmacogenetics. Klinicheskaia meditsina. 2007;85(2):58–63. (In Russ).]
Баранов В.С., Баранова Е.В., Иващенко Т.Э., Асеев М.В. Геном человека и гены «предрасположенности». — СПб.: Интермедика, 2000. — 272 с. [Baranov VS, Baranova YeV, Ivashchenko TE, Aseyev MV. Genom cheloveka i geny "predraspolozhennosti". Saint-Peterburg: Intermedika; 2000. 272 р. (InRuss).]
Сычев Д.А., Раменская Г.В., Игнатьев И.В.? и др. Клиническая фармакогенетика: Учебное пособие — М.: ГЭОТАР-Медиа, 2007 — 248 с. [Sychev DA, Ramenskaya GV, Ignat'yev IV,et al. Klinicheskaya farmakogenetika: Uchebnoye posobiye. Moscow: GEOTAR-Media; 2007. 248 р. (In Russ).]
Readman A. Implications of cytochrome P450 2C9 polymorfism on warfarin metabolism and dosing. Pharmacotherapy. 2001;21(2):235−241.doi: 10.1592/phco.21.2.235.34106.
Takahashi H, Echizen H. Pharmacogenetics of warfarin elimination and its clinical implications. Clin Pharmacokinet. 2001;40(8):587−603. doi: 10.2165/00003088-200140080-00003.
Ingelman-Sundberg M. Pharmacogenetics of cytochrome P450 and its applications in drug therapy: the past, present and future. Trends Рharmacol Sci. 2004;25(4):193−200. doi: 10.1016/j.tips.2004.02.007.
Sychev DA, Ashraf GM, Svistunov AA. The cytochrome P450 isoenzyme and some new opportunities for the prediction of negative drug interaction in vivo. Drug Des DevelTher. 2018;12:1147–1156. doi: 10.2147/DDDT.S149069.
Buck ML. The cytochrome P450 enzyme system and its effect on drug metabolism. Pediatr Pharmacother. 1997;3(5):211−216.
Lohoff FW. Pharmacogenetic considerations in the treatment of psychiatric disorders. Expert Opin Pharmacother. 2010;11(3):423−439. doi: 10.1517/14656560903508762.
Tompkins LM, Wallace AD. Mechanisms of cytochrome P450 induction. J Biochem Mol Toxicol. 2007;21(4):176–181. doi: 10.1002/jbt.20180.
Azzalis LA, Fonseca FL, Simon KA, et al. Effects of ethanol on CYP2E1 levels and related oxidative stress using a standard balanced diet. Drug Chem Toxicol. 2012;35(3):324–329. doi: 10.3109/01480545.2011.619192.
Zuber R, Anzenbacherov E, Anzenbacher P. Cytochromes P450 and experimental models of drug metabolism. J Cell Mol Med. 2002;6(2):189−198. doi: 10.1111/j.1582-4934.2002.tb00186.x.
Kuehl P, Zhang J, Lin Y, et al. Sequence diversity in CYP3A promoters and characterization of the genetic basis of polymorphic CYP3A5 expression. Nat Genet. 2001;27(4):383–391. doi: 10.1038/86882.
Ito A, Okada Y, Hashita T. Sex differences in the blood concentration of tacrolimus in systemic lupus erythematosus and rheumatoid arthritis patients with CYP3A5*3/*3. Biochem Genet.2017;55(3):268−277. doi: 10.1007/s10528-017-9795-8.
Takahiro M, Christopher R, Ward RM. The inhaled glucocorticoid fluticasone propionate efficiently inactivates cytochrome P450 3A5, a predominant lung P450 enzyme. Chem Res Toxicol. 2010;23(8):1356–1364. doi: 10.1021/tx100124k.
Teeninga N, Guan Z, Stevens J. Population pharmacokinetics of prednisolone in relation to clinical outcome in children with nephrotic syndrome. Ther Drug Monit. 2016;38(4):534−545. doi: 10.1097/FTD.0000000000000308.
Supplementary files
There are no supplementary files to display.