The First Domestic Experience of Detecting the Association of Anaerobic Bacteria Filifactor Alocis and Porphyromonas Gingivalis by Molecular Biological Methods in Periodontal Diseases and Comorbid Pathology (Comparative Research)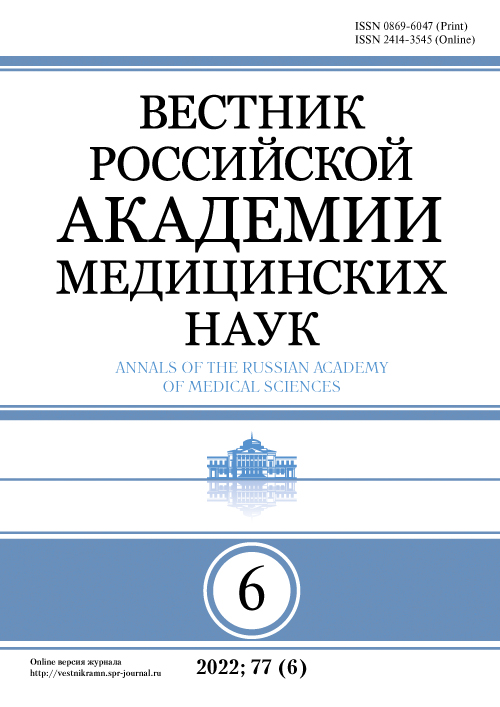 Cite item
Full Text

Open Access

Access granted

Subscription or Fee Access
Abstract
Background. The widespread global increase in the incidence of periodontitis and the role of its pathogens in comorbid pathology and systemic complications determines the need to create new molecular genetic systems for diagnosis and the use of metagenomic and bioinformatic analysis methods.
Aims — to use methods of microbiological genodiagnostics and bioinformatic analysis to prove the etiological role of the key periodontal pathogens Filifactor alocis and Porphyromonas gingivalis, characterizing the degree of progression of chronic periodontitis, and its association with a systemic pathological process (type 2 diabetes mellitus).
Methods. A comparative assessment of the identification of key periodontopathogenic species P. gingivalis and F. alocis in different forms of periodontitis according to the degree of progression (84 people) using a previously patented system of primers in patients in 4 comparison groups, differing in the degree of progression. 16S sequencing and bioinformatic analysis were performed in 69 patients (including 38 with type 2 diabetes mellitus). All nondiabetic patients were required to have HbA1c level 6.0%.
Results. A higher frequency of detection of periodontal pathogens was established in patients of group C with a pronounced tendency to progression (93 and 100% respectively). The simultaneous presence of P. gingivalis and F. alocis in chronic periodontitis of grade B was noted in 20% of cases, and in grade C — in 93% of cases.
Conclusions. The proposed method can be used to effectively determine the degree of periodontitis progression based on the determination of oligonucleotide primers of P. gingivalis and F. alocis, including comorbid pathology — periodontitis and type 2 diabetes mellitus.
Full Text

About the authors
A.I. Yevdokimov Moscow State University of Medicine and Dentistry
Email: rectorat.mgmsu@gmail.com
ORCID iD: 0000-0003-0059-4980
SPIN-code: 1452-1387

MD, PhD, Professor, Academician of the RAS
Russian Federation, 20/1, Delegatskaya str., 127473, Moscow
A.I. Yevdokimov Moscow State University of Medicine and Dentistry
Author for correspondence.
Email: nikola777@rambler.ru
ORCID iD: 0000-0002-3311-0367
SPIN-code: 8180-4941

MD, PhD, Professor
Russian Federation, 20/1, Delegatskaya str., 127473, Moscow
A.I. Yevdokimov Moscow State University of Medicine and Dentistry
Email: el.nikolaeva@bk.ru
ORCID iD: 0000-0002-7854-3262
SPIN-code: 9150-4102

MD, PhD, Professor, Chief Scientific Officer
Russian Federation, 20/1, Delegatskaya str., 127473, Moscow
A.I. Yevdokimov Moscow State University of Medicine and Dentistry
Email: iri.balm@mail.ru
ORCID iD: 0000-0001-8194-2419
SPIN-code: 8025-8611

MD, PhD, Professor
Russian Federation, 20/1, Delegatskaya str., 127473, Moscow
A.I. Yevdokimov Moscow State University of Medicine and Dentistry
Email: ippo@bk.ru
ORCID iD: 0000-0003-1737-0887
SPIN-code: 3002-7360

MD, PhD, Professor
Russian Federation, 20/1, Delegatskaya str., 127473, Moscow
A.I. Yevdokimov Moscow State University of Medicine and Dentistry
Email: tancha-leo84@mail.ru
ORCID iD: 0000-0001-9571-0520
SPIN-code: 2028-8404

MD, PhD, Assistant Professor
Russian Federation, 20/1, Delegatskaya str., 127473, Moscow
A.I. Yevdokimov Moscow State University of Medicine and Dentistry
Email: podporin.mikhail@yandex.ru
ORCID iD: 0000-0001-6785-0016
SPIN-code: 1937-4996

MD, PhD, Research Associate
Russian Federation, 20/1, Delegatskaya str., 127473, Moscow
A.I. Yevdokimov Moscow State University of Medicine and Dentistry
Email: lara12346@yandex.ru
SPIN-code: 3930-5307

MD, PhD, Professor
Russian Federation, 20/1, Delegatskaya str., 127473, Moscow
References
Tonetti MS, Jepsen S, Jin L, et al. Impact of the global burden of periodontal diseases on health, nutrition and wellbeing of mankind: a call for global action. J Clin Periodontol. 2017;44(5):456–462. doi: https://doi.org/10.1111/jcpe.12732
Rafiei M, Kiani F, Sayehmiri K, et al. Prevalence of anaerobic bacteria (P. gingivalis) as major microbial agent in the incidence periodontal ddiseases by meta-analysis. J Dent (Shiraz). 2018;19(3):232–242.
Hajishengallis G. Periodontitis: from microbial immune subversion to systemic inflammation. Nat Rev Immunol. 2015;15(1):30–44. doi: https://doi.org/10.1038/nri3785
Bui FQ, Almeida-da-Silva CLC, Huynh B, et al. Association between periodontal pathogens and systemic disease. Biomed J. 2019;42(1):27–35. doi: https://doi.org/10.1016/j.bj.2018.12.001
Царев В.Н., Николаева Е.Н., Ипполитов Е.В. Пародонтопатогенные бактерии как основные факторы возникновения и развития пародонтита // Журнал микробиологии, эпидемиологии, иммунобиологии. — 2017. — № 5. — С. 101–112. [Tsarev VN, Nikolaeva EN, Ippolitov EV. Periodontophatogenic bacteria of the main factors of emergence and development of periodontitis. J microbiology, epidemiology, immunobiology. 2017;5:101–112. (In Russ.)] doi: https://doi.org/10.36233/0372-9311-2017-5-101-112
Балмасова И.П., Царев В.Н., Янушевич О.О., и др. Микроэкология пародонта. Взаимосвязь локальных и системных эффектов. — М.: Практическая медицина, 2021. — 264 с. [Balmasova IP, Tsarev VN, Yanushevich OO, et al. Microecology of periodontal disease. The relationship of local and systemic effects. Moscow: Practical Medicine; 2021. 264 p. (In Russ.)]
Nikolaeva EN, Tsarev VN, Tsareva TV, et al. Interrelation of Cardiovascular Diseases with Anaerobic Bacteria of Subgingival Biofilm. Contemp Clin Dent. 2019;10(4):637–642. doi: https://doi.org/10.4103/ccd.ccd_84_19
Honda K. Porphyromonas gingivalis sinks teeth into the oral microbiota and periodontal disease. Cell Host Microbe. 2011;10(5):423–425. doi: https://doi.org/10.1016/j.chom.2011.10.008
Socransky SS, Haffajee AD, Cugini MA, et al. Microbial complexes in subgingivalplaqe. J Clin Periodontol. 1998;25(2):134–144. doi: https://doi.org/10.1111/j.1600-051x.1998.tb02419.x
Ahmed HJ, Svensson JA, Cope LD, et al. Prevalence of cdtABC genes encoding cytolethaldistanding toxin among Haemophilus ducreyi and Actinobacillus actinomycetemcomitans strains. J Med Microbiol. 2001;50(10):860–864. doi: https://doi.org/10.1099/0022-1317-50-10-860
Hiranmayi KV, Sirisha K, Ramoji Rao MV, et al. Novel pathogens in periodontal microbiology. J Pharm Bioallied Sci. 2017;9(3):155–163. doi: https://doi.org/10.4103/jpbs.JPBS_288_16
Hajishengallis G. Immune evasion strategies of Porphyromonas gingivalis. J Oral Biosci. 2011;53(3):233–240. doi: https://doi.org/10.2330/joralbiosci.53.233
Moffatt CE, Whitmore SE, Griffen AL, et al. Filifactor alocis interactions with gingival epithelial cells. Mol Oral Microbiol. 2011;26(6):365–373. doi: https://doi.org/10.1111/j.2041-1014.2011.00624.x
Aruni AW, Chioma O, Fletcher HM. Filifactor alocis: The newly discovered kid on the block with special talents. J Dent Res. 2014;93(8):725–732. doi: https://doi.org/10.1177/0022034514538283
Wang Q, Wright CJ, Dingming H, et al. Oral community interactions of Filifactor alocis in vitro. PLoS One. 2013;8(10):e76271. doi: https://doi.org/10.1371/journal.pone.0076271
Caton JG, Armitage G, Berglundh T, et al. A new classification scheme for periodontal and peri-implant diseases and conditions — Introduction and key changes from the 1999 classification. J Periodontol. 2018;89(Suppl 1):S1–S8. doi: https://doi.org/10.1111/jcpe.12935
Graetz C, Mann L, Krois J, et al. Comparison of periodontitis patients' classification in the 2018 versus 1999 classification. J Clin Periodontol. 2019;46(9):908–917. doi: https://doi.org/10.1111/jcpe.13157
Aruni AW, Mishra A, Dou Y, et al. Filifactor alocis — a new emerging periodontal pathogen. Microbes Infect. 2015;17(7):517–530. doi: https://doi.org/10.1016/j.micinf.2015.03.011
Aruni AW, Roy F, Fletcher HM. Filifactor alocis has virulence attributes that can enhance its persistence under oxidative stress conditions and mediate invasion of epithelial cells by Porphyromonas gingivalis. Infect Immun. 2011;79(10):3872–3886. doi: https://doi.org/10.1128/IAI.05631-11
Cekici A, Kantarci А, Hasturk Н, et al. Inflammatory and immune pathways in the pathogenesis of periodontal disease. Periodontol 2000. 2014;64(1):57–80. doi: https://doi.org/10.1111/prd.12002
Ипполитов Е.В., Царев В.Н., Арутюнов С.Д., и др. Способ формирования смешанной биопленки пародонтопатогенных анаэробных бактерий в условиях текучих сред in vitro. Патент C12N 1/20 (2006.01). Дата регистрации: 20.11.2015. Опубликовано: 12.05.2017. Бюл. № 14. [Ippolitov EV, Tsarev VN, Arutyunov SD, et al. Method for the formation of a mixed biofilm of periodontopathogenic anaerobic bacteria under fluid conditions in vitro. Patent C12N 1/20 (2006.01). Date of filing: 20.11.2015. Publ. 12.05.2017. Byull. No. 14. (In Russ.)]
Xiao S, Zhang T, Liu X, et al. Multiple PCR fast detecting method for oral cavity pathogen. Patent CN101270381A. Publ. 24.09.2008. Shuiqing Xiao, China.
Shin ES, Song KH. Primers and probes for detecting bacteria related to periodontal disease and method of detecting the same and use thereof. Patent KR20150129484A. Publ. 20.11.2015. Husteps Inc, Korea.
Gokyu M, Hamaide E, Ikeda Y, et al. Oligonucleotide set for detecting periodontal disease bacteria, and detection method of periodontal disease bacteria. Patent JP2016192950A. Publ. 17.11.2016. Dainippon Printing Co Ltd, Univ Tokyo Medical & Dental, Japan.
Al-Alimi A, Taiyeb-Ali T, Jaafar N, et al. Qat Chewing and Periodontal Pathogens in Health and Disease: Further Evidence for a Prebiotic-Like Effect. Biomed Res Int. 2015;2015:291305. doi: https://doi.org/10.1155/2015/291305
Царев В.Н., Шеремет О.К., Николаева Е.Н., и др. Способ оценки прогрессирования хронического пародонтита и набор реагентов для его осуществления. Патент RU 2 777 783 C1. Опубликовано: 09.08.2022 [Tsarev VN, Sheremet OK, Nikolaeva EN, et al. Method for assessing the progression of chronic periodontitis and a set of reagents for its implementation. Patent RU 2 777 783 C1. Publ. 09.08.2022. (In Russ.)]
Benson DA, Cavanaugh M, Clark K, et al. GenBank. Nucleic Acids Research. 2013;41(D1):D36–D42. doi: https://doi.org/10.1093/nar/gks1195
Callahan BJ, McMurdie PJ, Rosen MJ, et al. DADA2: High-resolution sample inference from Illumina amplicon data. Nat Methods. 2016;13(7):581–583. doi: https://doi.org/10.1038/nmeth.3869
Quast C, Pruesse E, Yilmaz P, et al. The SILVA ribosomal RNA gene database project: improved data processing and web-based tools. Nucleic Acids Res. 2013;41(Databased issue):D590–596. doi: https://doi.org/10.1093/nar/gks1219
Tang ZZ, Chen G, Alekseyenko AV. PERMANOVA-S: association test for microbial community composition that accommodates confounders and multiple distances. Bioinformatics. 2016;32(17):2618–2625. doi: https://doi.org/10.1093/bioinformatics/btw311
Lazarevic V, Whiteson K, Huse S, et al. Metagenomic study of the oral microbiota by illumina high-throughput sequencing. J Microbiol Methods. 2009;79(3):266–271. doi: https://doi.org/10.1016/j.mimet.2009.09.012
Кузьмина Э.М., Янушевич О.О., Кузьмина И.Н. Стоматологическая заболеваемость населения России. Эпидемиологическое стоматологическое обследование. — М.: МГМСУ, 2019. — 304 с. [Kuzmina EM, Yanushevich OO, Kuzmina IN. Dental morbidity of the Russian population. Epidemiological dental examination. Moscow: MGMSU; 2019. 304 p. (In Russ.)]].
Cухина М.А., Юдин С.М., Загайнова А.В., и др. Особенности микробиоты у пациентов с воспалительными заболеваниями кишечника (проспективное исследование) // Вестник РАМН. — 2022. — Т. 77. — № 3. — С. 165–171. [Sukhina MA, Yudin SM, Zagainova AV, et al. Microbiota features in patients with inflammatory bowel diseases (prospective study). Annals of the Russian Academy of Medical Sciences. 2022;77(3):165–171. (In Russ.)] doi: https://doi.org/10.15690/vramn1480
Дятлов И.А., Миронов А.Ю., Шепелин А.П., и др. Состояние и тенденция развития клинической и санитарной микробиологии в Российской Федерации и проблема импортозамещения // Клиническая лабораторная диагностика. — 2015. — Т. 60. — № 8. — С. 61–65. [Dyatlov IA, Mironov AYu, Shepelin AP, et al. The state and trends of clinical and sanitary microbiology in the Russian Federation and the problem of import substitution. Klinicheskaya Laboratornaya Diagnostika. 2015;60(8):61–65. (In Russ.)]
Schulz S, Porsch M, Grosse I, et al. Comparison of the oral microbiome of patients with generalized aggressive periodontitis and periodontitis-free subjects. Arch Oral Biol. 2019;99:169–176. doi: https://doi.org/10.1016/j.archoralbio.2019.01.015
Балмасова И.П., Царев В.Н., Арутюнов С.Д., и др. Filifactor alocis и его роль в этиологии хронического пародонтита // Стоматология. — 2020. — Т. 99. — № 3. — С. 78–82. [Balmasova IP, Tsarev VN, Arutyunov SD, et al. Filifactor alocis and its role in the etiology of chronic periodontitis. Dentistry. 2020;99(3):78–82. (In Russ.)] doi: https://doi.org/10.17116/stomat20209903178
Aja Е, Mishra А, Dou Н, et al. Role of the Filifactor alocis hypothetical protein FA519 in oxidative stress resistance. Microbiol Spectr. 2021;9(3):e0121221. doi: https://doi.org/10.1128/Spectrum.01212-21
Soffientini U, Caridis AM, Dolan S, et al. Intracellular cholesterol transporters and modulation of hepatic lipid metabolism: Implications for diabetic dyslipidaemia and steatosis. Biochim Biophys Acta. 2014;1842(10):1372–1382. doi: https://doi.org/10.1016/j.bbalip.2014.07.002
Kim HY, Song M-K, Gho YS, et al. Extracellular vesicles derived from the periodontal pathogen Filifactor alocis induce systemic bone loss through Toll-like receptor 2. J Extracell Vesicles. 2021;10(12):e12157. doi: https://doi.org/10.1002/jev2.12157
Supplementary files
Supplementary Files
Action