Clinical Anatomical Characteristics of Patients with Rhino-Orbit-Cerebral Mucormycosis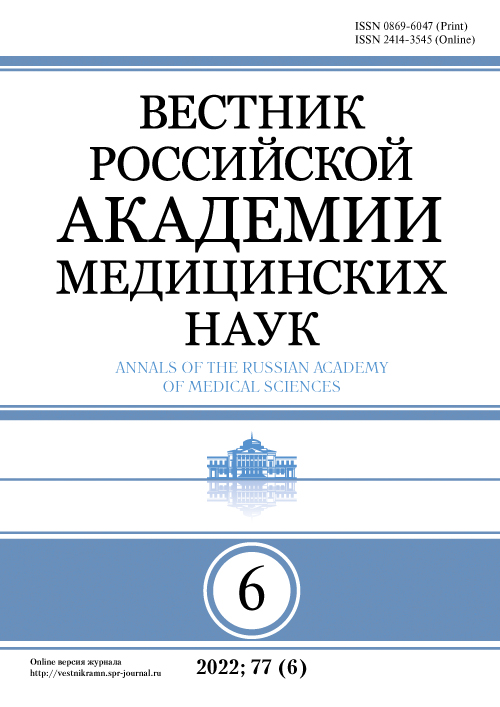 Cite item
Full Text

Open Access

Access granted

Subscription or Fee Access
Abstract
Background. Postponed coronavirus infection (COVID-19), accompanied by an immunosuppressive state and associated with the risk of secondary diseases such as mucormycosis. Diabetes mellitus is an independent risk factor for both severe COVID-19 and mucormycosis.
Aims — our aim was to experience the diagnosis and treatment of rhino-orbitocerebral mucormycosis in post-COVID-19 patients.
Materials. A single-center, observational, non-randomized, cohort comparative study was conducted. We assessed the clinical features, risk factors, diagnosis and outcomes of mucormycosis among recovered COVID-19 patients with hospitalisation in the otorhinolaryngology department of the Samara State Medical University Clinics, Samara, from September–December 2021. CT examinations were performed on Revolution EVO CT scanner (GE, Russia) and MRI on Aera MR scanner 1.5 T (Siemens, Germany). Materials for microbiological and histopathological examination were taken from all examined patients intraoperatively.
Results. The experience of diagnosing and treating rhinoorbitocerebral mucormycosis in patients after a new coronavirus infection was analyzed, the influence of the complex use of radiation diagnostic methods, histopathological and microbiological methods on the development and effectiveness of mucormycosis treatment was determined.
Conclusions. The effectiveness of disease management directly depends on the early initiation of etiotropic treatment, while the role of complex radiological diagnostics, histopathological and microbiological methods is important for early confirmation of the fungal etiology of the disease.
Full Text

About the authors
Samara State Medical University
Email: avkolsanov@mail.ru
ORCID iD: 0000-0002-4144-7090
SPIN-code: 2028-6609

MD, PhD, Professor, Professor RAN
Russian Federation, Samara
Samara State Medical University
Email: pzelter@mail.ru
ORCID iD: 0000-0003-1346-5942
SPIN-code: 3678-3932

MD, PhD
Russian Federation, Samara
Samara State Medical University
Email: olesyalorik@gmail.com
ORCID iD: 0000-0003-0143-4655
SPIN-code: 8139-1391

заведующая оториноларингологическим отделением, врач-оториноларинголог
Russian Federation, Samara
Samara State Medical University
Email: o.v.ivanova@samsmu.ru
ORCID iD: 0000-0002-4729-6203
SPIN-code: 8806-7177

MD, PhD
Russian Federation, Samara
Samara State Medical University
Email: a.v.lyamin@samsmu.ru
ORCID iD: 0000-0002-5905-1895
SPIN-code: 6607-8990

MD, PhD, Associate Professor
Russian Federation, Samara
Samara State Medical University
Email: egors9494@yandex.ru
ORCID iD: 0000-0002-2850-8768

врач-рентгенолог рентгенологического отделения клиник
Russian Federation, Samara
Samara State Medical University
Email: vladimirovalor@yandex.ru
ORCID iD: 0000-0003-1221-5589
SPIN-code: 6725-4931

MD, PhD, Associate Professor
Russian Federation, Samara
Samara State Medical University
Email: a.v.kozlov2@samsmu.ru
ORCID iD: 0000-0001-9384-6854
SPIN-code: 6871-1845

врач-бактериолог клинико-диагностической лаборатории клиник
Russian Federation, Samara
Samara State Medical University
Author for correspondence.
Email: yu.pyshkina@yandex.ru
ORCID iD: 0000-0002-7241-6828
SPIN-code: 4225-1020

MD, PhD, Associate Professor
Russian Federation, 89, Chapayevskaya str., 443099, Samara
References
Mandell GL, Bennett JE, Dolin R, eds. Mandell, Douglas, and Bennett's principles and practice of infectious diseases. 5th ed. New York: Churchill Livingstone; 2000.
Jeong W, Keighley C, Wolfe R, et al. The epidemiology and clinical manifestations of mucormycosis: a systematic review and meta-analysis of case reports. Clin Microbiol Infect. 2019;25(1):26–34. doi: https://doi.org/10.1016/j.cmi.2018.07.011
John TM, Jacob CN, Kontoyiannis DP. When uncontrolled diabetes mellitus and severe COVID-19 converge: the perfect storm for mucormycosis. J Fungi (Basel). 2021;7(4):298. doi: https://doi.org/10.3390/jof7040298
Hoenigl M, Seidel D, Carvalho A, et al. The emergence of COVID-19 associated mucormycosis: a review of cases from 18 countries. Lancet Microbe. 2022;3(7):e543–e552. doi: https://doi.org/10.1016/S2666-5247(21)00237-8
Khatiwada P, Giri A, Khatiwoda P. Mucormycosis in diabetes mellitus. Journal of Advances in Internal Medicine. 2012;1(2):73–75. doi: https://doi.org/10.3126/jaim.v1i2.6531
Chopra V, Flanders SA, O'Malley M, et al. Sixty-day outcomes among patients hospitalized with COVID-19. Ann Untern Med. 2021;174(4):576–578. doi: https://doi.org/10.7326/M20-5661
Singh AK, Singh R, Joshi SR, et al. Mucormycosis in COVID-19: A systematic review of cases reported worldwide and in India. Diabetes Metab Syndr. 2021;15(4):102146. doi: https://doi.org/10.1016/j.dsx.2021.05.019
Kothandaraman N, Rengaraj A, Xue B, et al. COVID-19 endocrinopathy with hindsight from SARS. Am J Physiol Endocrinol Metab. 2021; 320(1):E139–E150. doi: https://doi.org/10.1152/ajpendo.00480.2020
Randhawa G, Hagaman S, Pourabdollah Tootkaboni M, et al. A rare case of invasive mucormycosis in a diabetic patient treated with a short course of dexamethasone. Am J Case Rep. 2021;22:e932129. doi: https://doi.org/10.12659/AJCR.932129
Prakash H, Ghosh AK, Rudramurthy SM, et al. A prospective multicenter study on mucormycosis in India: Epidemiology, diagnosis, and treatment. Medical mycology. 2019;57(4):395–402. doi: https://doi.org/10.1093/mmy/myy060
Roden MM, Zaoutis TE, Buchanan WL, et al. Epidemiology and outcome of zygomycosis: A review of 929 reported cases. Clin Infect Dis. 2005;41(5):634–653. doi: https://doi.org/10.1086/432579
Cornely OA, Alastruey-Izquierdo A, Arenz D, et al. Global guideline for the diagnosis and management of mucormycosis: an initiative of the European Confederation of Medical Mycology in cooperation with the Mycoses Study Group Education and Research Consortium. Lancet Infect Dis. 2019;19(12):e405–е421. doi: https://doi.org/10.1016/S1473-3099(19)30312-3
Хостелиди С.Н., Шагдилеева Е.В., Шадривова О.В., и др. Случай генерализованного сочетанного микоза на фоне острой респираторной вирусной инфекции // Проблемы медицинской микологии. — 2019. — Т. 21. — № 4. — С. 24–29. [Khostelidi SN, Shagdileeva EV, Shadrivova OV, et al. The case of generalized combined mycosis on the background of acute respiratory viral infection. Problemy medicinskoj mikologii. 2019;21(4):24–29. (In Russ.)]
Supplementary files
Supplementary Files
Action