Modulation of instinal microbiom in the formation and progression of ulterative colitis.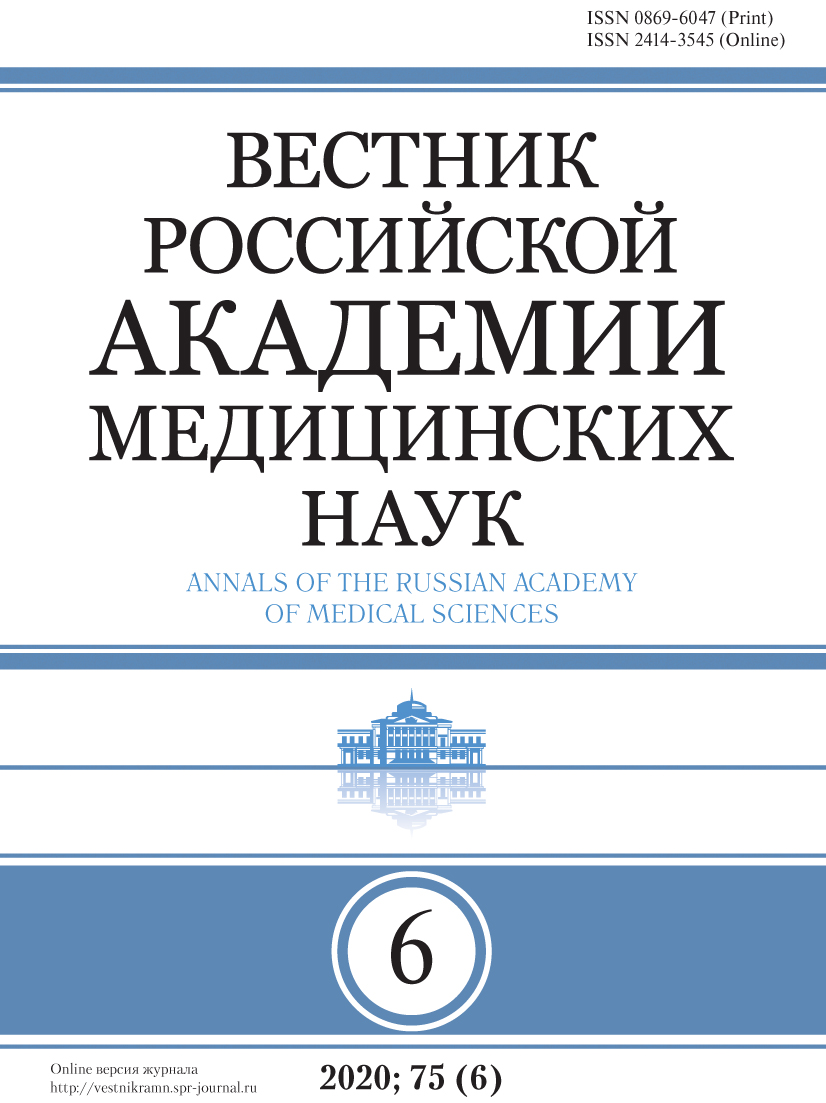 Cite item
Full Text

Open Access

Access granted

Subscription or Fee Access
Abstract
In recent decades, an increase in the incidence of ulcerative colitis has been observed throughout the world. The purpose of this review is to generalize the available information on the influence of environmental factors and intestinal microbiome on the occurrence and development of ulcerative colitis, the role of bacteria metabolism products in the pathogenesis of the disease. Studied literature, we came to the conclusion that lifestyle in the era of post-industrial society has a significant impact on the microbial composition of the intestine and leads to changes in its diversity in patients suffering from ulcerative colitis. The changes include a decrease in the number of residential flora with anti-inflammatory activity, which synthesize short-chain fatty acids, and an increase in the number of potentially pathogenic and pathogenic microorganisms. Within the phylums Firmicutes and Proteobacteria, the proportional ratio changes. The combination of aggression factors (deterioration of the intestinal microbiome composition, the presence of aggressive intestinal metabolites) leads to intestinal mucosa permeability disfunction, impairing its barrier function. Food and bacterial agents can penetrate deeper layers of the intestinal wall through mucosal defects, which then stimulate the development of inflammatory and immune responses.
Keywords
Full Text

References
Ramos GP, Papadakis KA. Mechanisms of Disease: Inflammatory Bowel Diseases. Mayo Clin. Proc. 2019;94(1):155–165. doi: https://doi.org/10.1016/j.mayocp.2018.09.013
Ungaro R, Mehandru S, Allen PB, et al. Ulcerative colitis. Lancet. 2017;389(10080):1756–1770. doi: https://doi.org/10.1016/s0140-6736(16)32126-2
The global, regional, and national burden of inflammatory bowel disease in 195 countries and territories, 1990–2017: a systematic analysis for the Global Burden of Disease Study 2017. Lancet. Gastroenterology & Hepatology. 2020;5(1):17–30. doi: https://doi.org/10.1016/S2468-1253(19)30333-4
Shouval DS, Rufo PA. The role of environmental factors in the pathogenesis of inflammatory bowel diseases: a review. JAMA Pediatr. 2017;171:999–1005. doi: https://doi.org/10.1001/jamapediatrics.2017.2571
Kaplan GG, Ng SC. Understanding and preventing the global increase of inflammatory bowel disease. Gastroenterology. 2017;152(2):313–321. doi: https://doi.org/10.1053/j.gastro.2016.10.020
Ng SC. Epidemiology of inflammatory bowel disease: focus on Asia. Best Pract Res Clin Gastroenterol. 2014;28(3):363–372. doi: https://doi.org/10.1016/j.bpg.2014.04.003
Kaplan GG. The global burden of IBD: From 2015 to 2025. Nat Rev. Gastroenterol Hepatol. 2015;12(12):720–727. doi: https://doi.org/10.1038/nrgastro.2015.150
Бикбавова Г.Р., Ливзан М.А., Совалкин В.И., и др. Влияние особенностей современного образа жизни на возникновение язвенного колита // Архив внутренней медицины. — 2019. — № 3. — С. 188–194. [Bikbavova GR, Livzan MA, Sovalkin VI, et al. Modern lifestyle and its impact on the ulcerative colitis incidence. Archiv Vnutrennei Medicini. 2019;(3):188–194. (In Russ.)]. doi: https://doi.org/10.20514/2226-6704-2019-9-3-188-193
Kvasnovsky CL, Aujla U, Bjarnason I. Nonsteroidal anti-inflammatory drugs and exacerbations of inflammatory bowel disease. Scand J Gastroenterol. 2015;50(3):255–263. doi: https://doi.org/10.3109/00365521.2014.966753
Cornish JA, Tan E, Simillis C, et al. The risk of oral contraceptives in the etiology of inflammatory bowel disease: a meta-analysis. Am J Gastroenterol. 2008;103(9):2394–2400. doi: https://doi.org/10.1111/j.1572-0241.2008.02064.x
Hviid A, Svanstrom H, Frisch M. Antibiotic use and inflammatory bowel diseases in childhood. Gut. 2011;60(1):49–54. doi: https://doi.org/10.1136/gut.2010.219683
Alhusayen RO, Juurlink DN, Mamdani MM, et al. Isotretinoinuse and the risk of inflammatory bowel disease: a population-based cohort study. J Invest Dermatol. 2013;133(4):907–912. doi: https://doi.org/10.1038/jid.2012.387
Khalili H, Huang ES, Ananthakrishnan AN, et al. Geographical variation and incidence of inflammatory bowel disease among US women. Gut. 2012;61(12):1686–1692. doi: https://doi.org/10.1136/gutjnl-2011-301574
Burke KE, Boumitri C, Ananthakrishnan AN. Modifiable environmental factors in inflammatory bowel disease. Cur Gastroenterol Rep. 2017;19(5):21. doi: https://doi.org/10.1007/s11894-017-0562-0
Sasaki M, Klapproth J-MA. The Role of Bacteria in the Pathogenesis of Ulcerative Colitis. J Signal Transduct. 2012;2012:704953. doi: https://doi.org/10.1155/2012/70495
Galley JD, Nelson MC, Yu Z, et al. Exposure to a social stressor disrupts the community structure of the colonic mucosa-associated microbiota. BMC Microbiol. 2014;14:189. doi: https://doi.org/10.1186/1471-2180-14-189
Бикбавова Г.Р., Ливзан М.А., Совалкин В.И., и др. Психологический стресс — фактор риска развития язвенного колита? // Доказательная гастроэнтерология. — 2019. — Т. 8. — № 2. — С. 37–42. [Bikbavova GR., Livzan MA, Sovalkin VI, et al. Is psychological stress a risk factor for ulcerative colitis? Dokazatel'naya Gastroenterologia. 2019;8(2):37–42. (In Russ.)]. doi: https://doi.org/10.17116/dokgastro2019802137
Mukhtar K, Nawaz H, Abid S. Functional gastrointestinal disorders and gut-brain axis: What does the future hold? Wolrd J. Gastroenterol. 2019;25(5):552–566. doi: https://doi.org/10.3748/wjg.v25.i5.552
Brzozowski B, Mazur-Bialy A, Pajdo R, et al. Mechanisms by which Stress Affects the Experimental and Clinical Inflammatory Bowel Disease (IBD): Role of Brain-Gut Axis. Cur Neuropharmacol. 2016;14(8);892–900. doi: https://doi.org/10.2174/1570159x14666160404124127
Uniken VW, Voskuil MD, Dijkstra G, et al. The genetic background of inflammatory bowel disease: from correlation to causality. J Pathol. 2017;241(2):146–58. doi: https://doi.org/10.1002/path.4817
Childers RE, Eluri S, Vazquez C, et al. Family history of inflammatory bowel disease among patients with ulcerative colitis: a systematic review and meta-analysis. Crohns Colitis. 2014;8(11):1480–1497. doi: https://doi.org/10.1016/j.crohns.2014.05.008
Khalif I, Shapina M. Inflammatory bowel disease treatment in Eastern Europe: current status, challenges and needs. Curr Opin Gastroenterol. 2017;33(4):230–233. doi: https://doi.org/10.1097/mog.0000000000000370
Ursell L, Haiser HJ, Van Treuren W, et al. The intestinal metabolome: an intersection between microbiota and host. Gastroenterol. 2014;146(6):1470–1476. doi: https://doi.org/10.1053/j.gastro.2014.03.001
Almeida A, Mitchell AL, Boland M, et al. A new genomic blueprint of the human gut microbiota. Nature. 2019;568(7753):499–504. doi: https://doi.org/10.1099/acmi.ac2019.po0041
Kivity S, Agmon-Levin N, Blank M, et al. Infections and autoimmunity are friends or foes? Trends Immunol. 2009;30(8):409–414. doi: https://doi.org/10.1016/j.it.2009.05.005
Strachan DP, Taylor EM, Carpenter RG. Family structure, neonatal infection, and hay fever in adolescence. Arch Dis Child. 1996;74(5):422–426. doi: https://doi.org/10.1136/adc.74.5.422
Holick MF. Vitamin D deficiency. N Engl J Med. 2007;357:266–281. doi: https://doi.org/10.1056/nejmra070553
Sekirov I, Russell SL, Antunes LC, Finlay BB. Gut microbiota in health and disease. Physiol Rev. 2010;90(3):859–904. doi: 10.1152/physrev.00045.2009
Jandhyala SM, Talukdar R, Subramanyam C, et al. Role of the normal gut microbiota. World J Gastroenterol. 2015;21(29):8787–8803. doi: https://doi.org/10.3748/wjg.v21.i29.8787
Swidsinski A, Loening-Baucke V, Lochs H, Hale LP. Spatial organization of bacterial flora in normal and inflamed intestine: a fluorescence in situ hybridization study in mice. World J Gastroenterol. 2005;11(8):1131–1140. doi: https://doi.org/10.3748/wjg.v11.i8.1131
Aleksandrova K, Romero-Mosquera B, Hernandez V. Diet. Gut microbiome and epigenetics: Emerging links with inflammatory bowel diseases and prospects for management and prevention. Nutrients. 2017;9(9):962. doi: https://doi.org/10.3390/nu9090962
Мазанкова Л.Н., Рыбальченко О.В., Николаева И.В. Микродисбиоз и эндогенные инфекции: руководство для врачей. — М.: ГЭОТАР-Медиа, 2018. [Mazankova LN, Pybalchenko OV, Nikolaeva IV. Microdisbioz i endogennie infekcii: rukovodstvo dlya vrachei. Moscow, GEOTAR-Media; 2018 (In Russ.)].
Andoh A. Physiological role of gut microbiota for maintaining human health. Digestion. 2016;93(3):176–181. doi: https://doi.org/10.1159/000444066
Morrison DJ, Preston T. Formation of short chain fatty acids by the gut microbiota and their impact on human metabolism. Gut Microbes. 2016;7(3):189–200. doi: https://doi.org/10.1080/19490976.2015.1134082
Kim S, Kim JH, Park BO, Kwak YS. Perspectives on the therapeutic potential of short-chain fatty acid receptors. BMB Rep. 2014;47(3):173–178. doi: https://doi.org/10.1016/j.mayocp.2018.09.013
Qin J, Li R, Raes J, Arumugam M, et al. A human gut microbial gene catalogue established by metagenomic sequencing. Nature. 2010;464:59–65. doi: https://doi.org/10.1038/nature0882
Arumugam M, Raes J, Pelletier E, et al. Enterotypes of the human gut microbiome. Nature. 2011;473(7346):174–180. doi: https://doi.org/10.1038/nature09944
Arora T, Bäckhed F. The gut microbiota and metabolic disease: current understanding and future perspectives. J Intern Med. 2016;280(4):339–349. doi: https://doi.org/10.1111/joim.12508
Koren O, Knights D, Gonzalez A, et al. A Guide to Enterotypes across the Human Body: Meta-Analysis of Microbial Community Structures in Human Microbiome Datasets. PLoS Comput Biol. 2013;9(1):e1002863. doi: https://doi.org/10.1371/journal.pcbi.1002863
Wu GD, Chen J, Homann C, et al. Linking long-term dietary patterns with gut microbial enterotypes. Science. 2011;334(6052):105–108. doi: https://doi.org/10.1126/science.1208344
De Filippo C, Cavalieri D, Di Paola M, et al. Impact of diet in shaping gut microbiotarevealed by a comparative study in children from Europe and rural Africa. Proc Natl Acad Sci USA. 2010;107(33):14691–14696. doi: https://doi.org/10.1073/pnas.1005963107.
Khalili H, Chan SSM, Lochhead P, et al. The role of diet in the aetiopathogenesis of inflammatory bowel disease. Nat. Rev. Gastroenterol. Hepatol. 2018;15(9):525–535. doi: 10.1038/s41575-018-0022-9
Gentile CL, Weir TL. The gut microbiota at the intersection of diet and human health. Science. 2018;362(6416):776–780. doi: https://doi.org/10.1126/science.aau5812
Vangay P, Johnson AJ, Ward TL, et al. US immigration westernizes the human gut microbiome. Cell. 2018;175(4):962–972. doi: https://doi.org/10.1016/j.cell.2018.10.029
Вялов С.С. Нарушение проницаемости слизистой оболочки как фактор патогенеза функциональных нарушений желудочно-кишечного тракта: обоснование и возможности коррекции // Consilium Medicum. — 2018. — Т. 20. — № 12. — С. 99–104. [Vialov SS. Mucosal permeability disturbances as a pathogenesis factor of gastrointestinal tract functional disorders: rationale and correction possibilities. Consilium Medicum. 2018;20(12):99–104. (In Russ.)]. doi: https://doi.org/10.26442/20751753.2018.12.180062
Lozupone CA, Stombaugh J, Gonzalez A, et al. Meta-analyses of studies of the human microbiota. Genome Res. 2013;23(10):1704–1714. doi: https://doi.org/10.1101/gr.151803.112
Kriss M, Hazleton KZ, Nusbacher NM, et al. Low diversity gut microbiota dysbiosis: drivers, functional implications and recovery. Curr Opin Microbiol. 2018;44:34–40. doi: https://doi.org/10.1016/j.mib.2018.07.003
Blaser MJ, Falkow S. What are the consequences of the disappearing human microbiota? Nat Rev Microbiol. 2009;7(12):887–894. doi: https://doi.org/10.1038/nrmicro2245
De Souza HS, Fiocchi C. Immunopathogenesis of IBD: Current state of the art. Nat Rev Gastroenterol Hepatol. 2016;13(1):13–27. doi: https://doi.org/10.1038/nrgastro.2015.186
Hall AB, Yassour M, Sauk J, et al. A novel Ruminococcus gnavus clade enriched in inflammatory bowel disease patients. Genome Med. 2017;9(1):103. doi: https://doi.org/10.1186/s13073-017-0490-5
Henke MT, Kenny DJ, Cassilly CD, et al. Ruminococcus gnavus, a member of the human gut microbiome associated with Crohn's disease, produces an inflammatory polysaccharide. Proc Natl Acad Sci USA. 2019;116(26):12672–12677. doi: https://doi.org/10.1073/pnas.1904099116
Yang G. Hydrogen sulfide in cell survival: A double-edged sword. Expert Rev Clin Pharmacol. 2011;4(1):33–47. doi: https://doi.org/10.1586/ecp.10.131
Barton LL, Ritz NL, Fauque GD, Lin H.C. Sulfur Cycling and the Intestinal Microbiome. Dig Dis Sci. 2017;62(9):2241–2257. doi: https://doi.org/10.1007/s10620-017-4689-5
Anantharaman K, Hausmann B, Jungbluth SP, et al. Expanded diversity of microbial groups that shape the dissimilatory sulfur cycle. ISME J. 2018;12(7):1715–1728. doi: https://doi.org/10.1038/s41396-018-0078-0
Nagao-Kitamoto H, Kitamoto S, Kuffa P, Kamada N. Pathogenic role of the gut microbiota in gastrointestinal diseases. Intest Res. 2016;14(2):127–138. doi: https://doi.org/10.5217/ir.2016.14.2.127
Iszatt N, Janssen S, Lenters V, et al. Environmental toxicants in breast milk of Norwegian mothers and gut bacteria composition and metabolites in their infants at 1 month. Microbiome. 2019;7(1):34. doi: https://doi.org/10.1186/s40168-019-0645-2
Morgan XC, Tickle TL, Sokol H, et al. Dysfunction of the intestinal microbiome in inflammatory bowel disease and treatment. Genome Biol. 2012;13(9):R79. doi: https://doi.org/10.1186/gb-2012-13- 9-r79
Zeng MY, Inohara N, Nuñez G. Mechanisms of inflammation-driven bacterial dysbiosis in the gut. Mucosal Immunol. 2017;10(1):18–26. doi: https://doi.org/10.1038/mi.2016.75
Food Availability (Per Capita) Data System (Table: Sugar and sweeteners) [updated 2019 Aug 26; cited 2019 May 6]. Available from: https://www.ers.usda.gov/data-products/food-availability-per-capita-data-system
Laffin M, Fedorak R, Zalasky A, et al. A high-sugar diet rapidly enhances susceptibility to colitis via depletion of luminal short-chain fatty acids in mice. Sci Rep. 2019;9(1):12294. doi: 10.1038/s41598-019-48749-2
Martinez-Medina M, Garcia-Gil LJ. Escherichia coli in chronic inflammatory bowel diseases: An update on adherent invasive Escherichia coli pathogenicity. World J Gastrointest Pathophysiol. 2014;5(3):213–227. doi: https://doi.org/10.4291/wjgp.v5.i3.213
Gonze D, Coyte KZ, Lahti L, Faust K. Microbial communities as dynamical systems. Curr Opin Microbiol. 2018;44:41–49. doi: https://doi.org/10.1016/j.mib.2018.07.004
Макейкина М.А., Ливзан М.А. Генетические прогностические факторы течения неспецифического язвенного колита // Практическая медицина. — 2012. — Т. 9. — № 65. — С. 133–136. [Makeikina MA, Livzan MA. Genetic prognostic factors of course of nonspecific ulcerative colitis. Prakticheskaya medicina. 2012;9(65):133–136. (In Russ.)]
Neurath MF. Cytokines in inflammatory bowel disease. Nat Rev Immunol. 2014;14(5):329–342. doi: https://doi.org/10.1038/nri3661
Supplementary files
Supplementary Files
Action