Multivariate analysis of the megacity population immunity to measles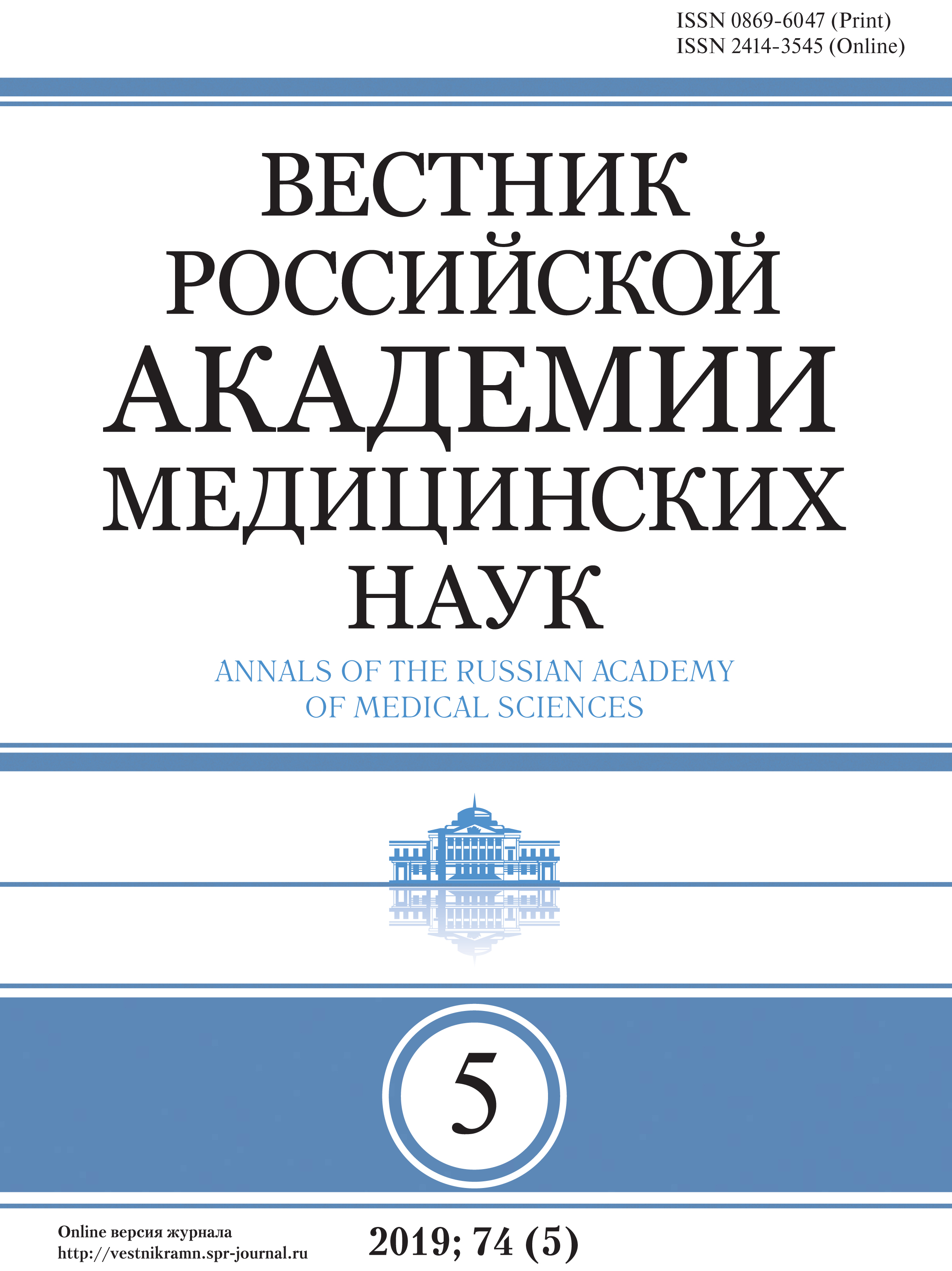 Authors: Semenenko T.A.1,2, Nozdracheva A.V.1, Asatryan M.N.1, Akimkin V.G.3, Tutelyan A.V.2,3, Shmyr I.S.1, Ershov I.F.1
Affiliations:

N.F. Gamaleya National Research Centre for Epidemiology and Microbiology
I.M. Sechenov First Moscow State Medical University (Sechenov University)
Central Research Institute of Epidemiology, Russian Federal Service for Supervision of Consumer Rights Protection and Human Well-Being

Issue: Vol 74, No 5 (2019)
Pages: 351-360
Section: EPIDEMIOLOGY: CURRENT ISSUES
Abstract
Background: The significant reduction of measles and rubella morbidity and child mortality, which allowed WHO to set a target for their elimination by 2010, is one of the finest examples of the vaccine prevention effectiveness in the fight against infectious diseases. However, in the period from 2010 to 2019 there was a controversial situation with respect to measles, characterized by the presence of high vaccination coverage of the population on the one hand, and an increase in the incidence on the other. Obviously, the key point in resolving these contradictions is to analyze the susceptibility of the population.
Aim: Of the study was to assess the susceptibility of Moscow population to measles in the context of factors affecting its formationю.
Methods: Epidemiological, serological, statistical methods and GIS technologies were used in the work. The serological study (using the solid-phase ELISA method) included 2410 blood serum samples collected between 2013 and 2017 from healthy residents of Moscow aged from birth to 60 years. On the basis of documents on sanitary and epidemic investigation of measles cases in Moscow (2013−2015) a relational database under the management of MySQL Database Management System was formed, based on the analysis of which the coverage of the population with preventive vaccinations was estimated.
Results: Оn average, the proportion of seronegative persons to measles in 2016−2017, compared with 2013−2014 (20.5%) increased and amounted to 29.0% mainly due to the group over 36 years. The most vulnerable were children aged 1−2 years and 3−6 years, where the share of the immune persons amounted to 51,5% and 37.9%, respectively, at low coverage in a planned manner (55,9% [95% CI, 52.2 per cent; of 59.5%] and 75,3% [95% CI, 73.3 per cent; for 77.2%]). The proportion of vaccinated persons who lost post-vaccination immunity under the influence of factors preventing its formation (from 3.6% to 21.6% in the group of 7−14 years; from 11.8% to 26.4% in the group of 15−17 years) was calculated. The possibility of visualizing the spread of measles on electronic maps for the territorial and temporal analysis of the epidemic situation is shown.
Conclusions: It is reasonable to assume that over the time, the proportion of people who have suffered measles will decrease, and the proportion of people not covered by vaccination or lost post-vaccination immunity - increase, that can lead to a decrease in herd immunity and requires correction of vaccination work. The proposed information and analytical system for monitoring the epidemiological situation allows to work quickly with heterogeneous resources and choose on electronic maps the area of interest from the global level (country) to the local (house), which is necessary for the adoption of scientifically based preventive and epidemiological measures.
Keywords
Full Text

About the authors
Tatiana A. Semenenko
N.F. Gamaleya National Research Centre for Epidemiology and Microbiology; I.M. Sechenov First Moscow State Medical University (Sechenov University)
Email: semenenko@gamaleya.org
ORCID iD: 0000-0002-6686-9011
SPIN-code: 8375-2270

Russian Federation, 18, Gamalei street, Moscow, 123098; 8-2, Trubetskaya street, Moscow, 119992

MD, PhD, Professor
Anna V. Nozdracheva
N.F. Gamaleya National Research Centre for Epidemiology and Microbiology
Email: nozdracheva@gamaleya.org
ORCID iD: 0000-0002-8521-1741
SPIN-code: 3631-8083

Russian Federation, 18, Gamalei street, Moscow, 123098

научный сотрудник отдела эпидемиологии
Marina N. Asatryan
N.F. Gamaleya National Research Centre for Epidemiology and Microbiology
Email: masatryan@gamaleya.org
ORCID iD: 0000-0001-6273-8615
SPIN-code: 5909-9349

Russian Federation, 18, Gamalei street, Moscow, 123098

MD, PhD
Vasilij G. Akimkin
Central Research Institute of Epidemiology, Russian Federal Service for Supervision of Consumer Rights Protection and Human Well-Being
Email: vgakimkin@yandex.ru
ORCID iD: 0000-0001-8139-0247
SPIN-code: 4038-7455

Russian Federation, 3A, Novogireyevskaya street, Moscow, 111123

MD, PhD, Professor
Aleksey V. Tutelyan
I.M. Sechenov First Moscow State Medical University (Sechenov University); Central Research Institute of Epidemiology, Russian Federal Service for Supervision of Consumer Rights Protection and Human Well-Being
Author for correspondence.
Email: willothewisp@yandex.ru
ORCID iD: 0000-0002-2706-6689
SPIN-code: 8150-2230

Russian Federation, 8-2, Trubetskaya street, Moscow, 119992; 3A, Novogireyevskaya street, Moscow, 111123

MD, PhD, Professor
Ilia S. Shmyr
N.F. Gamaleya National Research Centre for Epidemiology and Microbiology
Email: shmyr_is@mail.ru
ORCID iD: 0000-0002-8514-5174
SPIN-code: 3523-7548
18, Gamalei street, Moscow. 123098

лаборант-исследователь отдела эпидемиологии
Ivan F. Ershov
N.F. Gamaleya National Research Centre for Epidemiology and Microbiology
Email: 79263448388@yandex.ru
ORCID iD: 0000-0002-3333-5347
SPIN-code: 9335-9776

Russian Federation, 18, Gamalei street, Moscow. 123098

научный сотрудник
References
Программа и Национальный план мероприятий по реализации программы «Элиминация кори и краснухи в Российской Федерации (2016–2020 гг.)» (утв. Роспотребнадзором 28.12.2015, Минздравом России 31.12.2015). [Natsional'nyy plan meropriyatiy po realizatsii programmy "Eliminatsiya kori i krasnukhi v Rossiyskoy Federatsii (2016−2020 gg.)» (approved by Rospotrebnadzor on 28.12.2015, Ministry of Health of Russia 31.12.2015). (In Russ).] Доступно по: http://rospotrebnadzor.ru/deyatelnost/epidemiological-surveillance/?ELEMENT_ID=5968. Ссылка активна на 01.08.2019.
Федеральная служба по надзору в сфере защиты прав потребителей и благополучия человека [интернет]. Инфекционная заболеваемость в Российской Федерации за январь-декабрь 2017 г. ― Роспотребнадзор, 2018. [The Federal service for supervision of consumer rights protection and human well-being [Internet]. Infektsionnaya zabolevayemost' v Rossiyskoy Federatsii za yanvar'-dekabr' 2017 g. Rospotrebnadzor; 2018. (In Russ).] Доступно на: http://rospotrebnadzor.ru/activities/statistical-materials/statictic_details.php?ELEMENT_ID=10049. Ссылка активна на 01.08.2019.
Федеральная служба по надзору в сфере защиты прав потребителей и благополучия человека [интернет]. Инфекционная заболеваемость в Российской Федерации за январь-июнь 2018 г. ― Роспотребнадзор, 2018. [The Federal service for supervision of consumer rights protection and human well-being [Internet]. Infektsionnaya zabolevayemost' v Rossiyskoy Federatsii za yanvar'-iyun' 2018 g. Rospotrebnadzor; 2018. (In Russ).] Доступно на: http://rospotrebnadzor.ru/activities/statistical-materials/statictic_details.php?ELEMENT_ID=10419. Ссылка активна на 01.08.2019.
Беляков В.Д., Семененко Т.А., Шрага М.Х. Введение в эпидемиологию инфекционных и неинфекционных заболеваний человека. ― М.: Медицина, 2001. ― 262 с. [Belyakov VD, Semenenko TA, Shraga MH. Vvedenie v ehpidemiologiyu infekcionnyh i neinfekcionnyh zabolevanii cheloveka. Moscow: Medicina; 2001. 262 р. (In Russ).]
Топтыгина А.П., Смердова М.А., Наумова М.А., и др. Влияние особенностей популяционного иммунитета на структуру заболеваемости корью и краснухой // Инфекция и иммунитет. ― 2018. ― Т.8. ― №3. ― С. 341–348. [Toptygina AP, Smerdova MA, Naumova MA, et al. Influence of population immunity peculiarities on the structure of measles and rubella prevalence. Russian journal of infection and immunity. 2018;8(3):341–348. (In Russ).] doi: 10.15789/2220-7619-2018-3-341-348.
WHO Global Health Observatory data repository. Measles, 1st dose (MCV1) Immunization coverage estimates by country [cited 2019 Mar 1]. Available from: http://apps.who.int/gho/data/view.main.80100?lang=en.
Фельдблюм И.В. Риск-менеджмент в сфере вакцинопрофилактики как одно из направлений обеспечения эпидемиологической и биологической безопасности // Эпидемиология и вакцинопрофилактика. ― 2018. ― Т.17. ― №5. ― С. 25–30. [Feldblium IV. Risk-management in the field of vaccine prevention as one of the directions of ensuring epidemiological and biological safety. Epidemiologiia i vaktsinoprofilaktika. 2018;17(5):25–30. (In Russ).] doi: 10.31631/2073-3046-2018-17-5-25-30.
Фельдблюм И.В. Эпидемиологический надзор за вакцинопрофилактикой // МедиАль. ― 2014. ― №3. ― С. 37–55. [Fel'dblyum IV. Epidemiologic surveillance over preventive vaccination. Zhurnal MediAl'. 2014;(3):37–55. (In Russ).]
Симонова Е.Г., Сергевнин В.И. Предэпидемическая диагностика в системе риск-ориентированного эпидемиологического надзора над инфекционными болезнями // Эпидемиология и вакцинопрофилактика. ― 2018. ― Т.17. ― №5. ― С. 31–37. [Simonova EG, Sergevnin VI. Pre-epidemic diagnosis in the system risk-oriented epidemiological surveillance of infectious diseases. Epidemiologiia i vaktsinoprofilaktika. 2018;17(5):31–37. (In Russ).] doi: 10.31631/2073-3046-2018-17-5-31-37.
Федеральная служба по надзору в сфере защиты прав потребителей и благополучия человека. Методические указания МУ 3.1.2943-11 «Организация и проведение серологического мониторинга состояния коллективного иммунитета к инфекциям, управляемым средствами специфической профилактики (дифтерия, столбняк, коклюш, корь, краснуха, эпидемический паротит, полиомиелит, гепатит B)» [The Federal service for supervision of consumer rights protection and human well-being. Methodical instructions MU 3.1.2943-11 "Organizatsiya i provedenie serologicheskogo monitoringa sostoyaniya kollektivnogo immuniteta k infektsiyam, upravlyaemyim sredstvami spetsificheskoy profilaktiki (difteriya, stolbnyak, koklyush, kor, krasnuha, epidemicheskiy parotit, poliomielit, gepatit B". (In Russ).] Доступно по: http://rospotrebnadzor.ru/documents/details.php?ELEMENT_ID=4852. Ссылка активна на 01.08.2019.
Gidding HF, Quinn HE, Hueston L, et al. Declining measles antibodies in the era of elimination: Australia's experience. Vaccine. 2018;36(4):507–513. doi: 10.1016/j.vaccine.2017.12.002.
Семененко Т.А., Акимкин В.Г. Сероэпидемические исследования в системе надзора за вакциноуправляемыми инфекциями // Журнал микробиологии, эпидемиологии и иммунобиологии. ― 2018. ― №2. ― С. 87–94. [Semenenko TA, Akimkin VG. Seroepidemiology in the surveillance of vaccine-preventable diseases. Journal of microbiology, epidemiology, and immunobiology. 2018;(2):87–94. (In Russ).] doi: 10.36233/0372-9311-2018-2-87-94.
Слюсарь Л.И., Сохин А.А., Радомская Ф.С., и др. Результаты многолетних наблюдений за длительностью сохранения иммунитета у вакцинированных, ревакцинированных и переболевших корью // Журнал микробиологии, эпидемиологии и иммунобиологии. ― 1990. ― №8. ― С. 66–70. [Slyusar' LI, Sohin AA, Radomskaya FS, et al. Results of prolonged observations on the duration of immunity in persons vaccinated and revaccinated against measles, as well as in persons having had this infection. Journal of microbiology, epidemiology, and immunobiology. 1990;(8):66–70. (In Russ).]
Dai B, Chen ZH, Liu QC, et al. Duration of immunity following immunization with live measles vaccine: 15 years of observation in Zhejiang Province, China. Bull World Health Organ. 1991;69(4):415–423.
Соловьева И.Л., Костинов М.П., Кусельман А.И. Особенности вакцинации детей с измененным преморбидным фоном против гепатита В, кори, эпидемического паротита. ― Ульяновск: УлГУ, 2006. ― 296 с. [Solov'eva IL, Kostinov MP, Kusel'man AI. Osobennosti vakcinacii detej s izmenennym premorbidnym fonom protiv gepatita В, kori, ehpidemicheskogo parotita. Ul'yanovsk: UlGU; 2006. 296 р. (In Russ).]
Ноздрачева А.В., Семененко Т.А., Асатрян М.Н., и др. Иммунологическая восприимчивость населения мегаполиса в отношении кори на этапе ее элиминации // Эпидемиология и вакцинопрофилактика. ― 2019. ― Т.18. ― №2. ― С. 18–26. [Nozdracheva AV, Semenenko TA, Asatryan MN, et al. Immunological susceptibility of metropolis population to measles in its elimination stage. Epidemiologiia i vaktsinoprofilaktika. 2019;18(2):18–26. (In Russ).] doi: 10.31631/2073-3046-2019-18-2-18-26.
Санитарные правила СП 3.1.2.1176-02 «Профилактика кори, краснухи, эпидемического паротита». [Sanitary regulations SP 3.1.2.1176-02 «Profilaktika kori, krasnukhi, epidemicheskogo parotita". (In Russ).] Доступно на: http://snipov.net/database/c_4163967195_doc_4293851299.html. Ссылка активна на 01.08.2019.
Цвиркун О.В., Герасимова А.Г., Тихонова Н.Т., и др. Заболеваемость корью в разных возрастных группах в период элиминации инфекции // Эпидемиология и вакцинопрофилактика. ― 2017. ― Т.16. ― №3. ― С. 18–25. [Tsvirkun OV, Gerasimova AG, Tikhonova NT, et al. Measles cases by age group during the elimination of infection. Epidemiologiia i vaktsinoprofilaktika. 2017;16(3):18–25. (In Russ).] doi: 10.31631/2073-3046-2017-16-3-18-25.
Семененко Т.А., Ежлова Е.Б., Ноздрачева А.В., Русакова Е.В. Особенности проявлений эпидемического процесса кори в Москве в 1992−2014 годах // Эпидемиология и вакцинопрофилактика. ― 2015. ― Т.14. ― №6. ― С. 16–23. [Semenenko TA, Ezhlova EB, Nozdracheva AV, Rusakova EV. Manifestation features of the measles epidemic process in Moscow in 1992–2014. Epidemiologiia i vaktsinoprofilaktika. 2015;14(6):16–23. (In Russ).]
Асатрян М.Н. Моделирование эпидемического процесса гепатита В на основе компьютерных технологий: Автореф. дис. ... канд. мед. наук. ― М., 2013. ― 29 с. [Asatryan MN. Modelirovaniye epidemicheskogo protsessa gepatita V na osnove komp'yuternykh tekhnologiy. [dissertation abstract] Moscow; 2013. 29 р. (In Russ).] Доступно по: https://new-disser.ru/_avtoreferats/01005095437.pdf. Ссылка активна на 01.08.2019.
Геоинформационные системы в здравоохранении РФ: данные, аналитика, решения // Сборник трудов 3-й и 4-й Всероссийских конференций с международным участием, 18–19 сентября 2013, 25–26 июня 2015, Санкт-Петербург. ― СПб., 2016. [Geoinformatsionnyye sistemy v zdravookhranenii RF: dannyye, analitika, resheniya. Proceedings of the 3rd and 4th all-Russian conferences with international participation, dates 2013 September 18–19, 2015 June 25–26. St. Petersburg; 2016. (In Russ).]
Тихонова Н.Т., Герасимова А.Г., Цвиркун О.В., и др. Корь в России: проблемы ликвидации / Под ред. Г.Г. Онищенко, А.Ю. Поповой, В.А. Алешкина. ― М.: Династия, 2017. ― 551 с. [Tikhonova NT, Gerasimova AG, Tsvirkun OV, et al. Kor' v Rossii: problemy likvidatsii. Ed by GG Onishchenko, AYu Popova, VA Aleshkin. Moscow: Dynasty; 2017. 551 р. (In Russ).]
Statistics
Views
Abstract - 457
PDF (Russian) - 1
Cited-By

Article Metrics
Metrics powered by PLOS ALM
PlumX
Dimensions