Urine-Derived Stem Cells: Differentiation Potential into Smooth-Muscle Cells and Urothelial Cell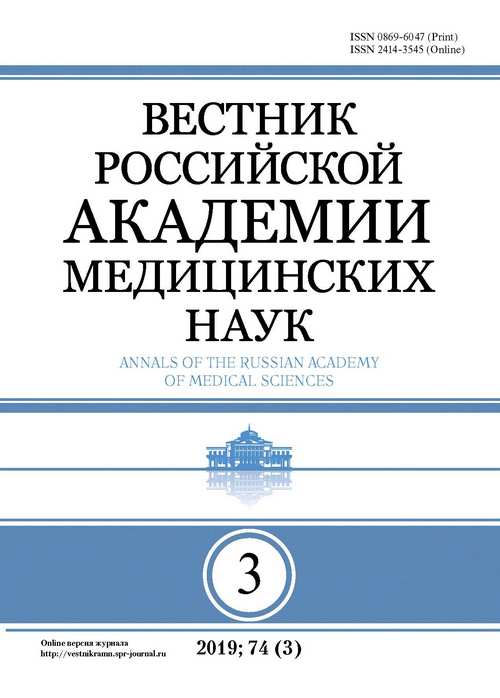 Authors: Vasyutin I.A.1, Lyundup A.V.1, Kuznetsov S.L.1
Affiliations:

I.M. Sechenov First Moscow State Medical University (Sechenov University)

Issue: Vol 74, No 3 (2019)
Pages: 176-184
Section: CELL TRANSPLANTOLOGY AND TISSUE ENGINEERING: CURRENT ISSUES
Abstract
Background: Tissue engineering of low urinary tract organs requires biopsy of urinary bladder material. The current study describes non-invasive approach of obtaining autologous stem cells from urine of healthy adults. These cells were studied for potential to differentiate into epithelial cells and smooth muscle cells of the urinary bladder.
Aims: To describe properties of urine-derived stem cells (USCs) and investigate their differentiation potential for tissue engineering of low urinary tract organs.
Materials and Methods: USCs were isolated from urine of healthy volunteers with centrifugation and seeded in media to 24-well plates. Expression of stem cells markers (CD73, CD90, CD105, CD34, CD45, CD29, CD44, CD54, SSEA4) by USCs was assessed with flow cytometry. Expression of specific markers of smooth muscle cells and urothelial cells was assessed with fluorescence microscopy with following computational image analysis.
Results: Median number of USCs per 100 ml urine was 6. Doubling time for USC was 1.44±0.528 days (n=4) and there were 26.3±4.79 population doublings for USC cultures (n=4). Median expression of markers of postnatal stem cells was CD73 ― 79.8%, CD90 ― 56.6%, CD105 ― 40.7%, CD34 <1.0%, CD45 <2.0%, CD29 >99.0%, CD44 >99.0%, CD54 ― 97.7% and SSEA4 >99.0%. Treatment of cells with high concentration of EGF in media with low concentration of FBS for 10 days increased cytokeratin (CK) expression to 24.9% for CK AE1/AE3 and to 7.6% for CK 7. Treatment of USCs with media inducing smooth muscle differentiation for 10 days increased expression of α-smooth muscle actin to 79.6% and expression of calponin to 97.6%.
Conclusions: USCs are cells that can be found in urine in small quantities. They have high proliferative potential and express markers of postnatal stem cells. Under effect of PDGF-BB and TGF- β1 they differentiate into smooth muscle cells.
Keywords

Igor A. Vasyutin
I.M. Sechenov First Moscow State Medical University (Sechenov University)
Author for correspondence.
Email: ivasyutin@yahoo.com
ORCID iD: 0000-0003-0594-7423
SPIN-code: 1872-8347

Russian Federation, 8 bld 2, Trubetskaya street, 119991 Moscow
MD
Aleksey V. Lyundup
I.M. Sechenov First Moscow State Medical University (Sechenov University)
Email: lyundup@gmail.com
ORCID iD: 0000-0002-0102-5491
SPIN-code: 4954-3004

Russian Federation, 8 bld 2, Trubetskaya street, 119991 Moscow
MD, PhD
Sergey L. Kuznetsov
I.M. Sechenov First Moscow State Medical University (Sechenov University)
Email: vakmedbiol@rambler.ru
ORCID iD: 0000-0002-0704-1660
SPIN-code: 3824-2646

Russian Federation, 8 bld 2, Trubetskaya street, 119991 Moscow
MD, PhD, Professor
Supplementary files
| | | | |
| --- | --- | --- | --- |
| 1. | Fig. 1. Scheme for the isolation of stem cells from urine (a); SCM clone growth in culture (b): light microscopy | View (627KB) | Indexing metadata |
| 2. | Fig. 2. Flow cytometry SCM | View (352KB) | Indexing metadata |
| 3. | Fig. 3. Expression of cytokeratins by urothelium cells in culture (fluorescence microscopy): CK AE1 / AE3 (a); CK 7 (b); CK 13 (c); CK 20 (g); negative control - staining of cells without primary antibodies (e). Blue is DAPI. | View (1MB) | Indexing metadata |
| 4. | Fig. 4. Expression of filaments with smooth muscle cells in culture (fluorescence microscopy): αSMA (green), desmin (red) (a); calponin (b); negative control - staining of cells without primary antibodies (c). Blue is DAPI. | View (477KB) | Indexing metadata |
| 5. | Fig. 5. a – c: expression of cytokeratins in SCM before differentiation (fluorescence microscopy, blue - DAPI); d - g: expression of cytokeratins in SCM after differentiation into urothelial cells (fluorescence microscopy, blue - DAPI); g: light microscopy of the SCM culture before differentiation; h: light microscopy of SCM culture after urothelial differentiation; and − l: expression of cytokeratins by urothelium cells in culture (fluorescence microscopy, blue - DAPI); m: light microscopy of urothelium cell culture; n: relative level of cytokeratin expression in various SCM clones prior to differentiation; o: relative level of cytokeratin expression in various SCM clones after urothelial differentiation; n: relative change in the level of expression of cytokeratins after urothelial differentiation. | View (2MB) | Indexing metadata |
| 6. | Fig. 6. a, b: expression of myofilaments in SCM before differentiation (fluorescence microscopy, blue - DAPI); d, d: expression of myofilaments in SCM after differentiation into smooth muscle cells (fluorescence microscopy, blue - DAPI); c: light microscopy of the SCM culture before differentiation; e: light microscopy of the SCM culture after differentiation into smooth muscle cells; g, h: expression of myofilaments by smooth muscle cells in culture (fluorescence microscopy, blue - DAPI); and: light microscopy of smooth muscle cell culture; j: relative level of myofilament expression in various SCM clones prior to differentiation; l: relative level of myofilament expression in various SCM clones after smooth muscle differentiation; m: relative change in the expression level of myofilaments after smooth muscle differentiation. | View (1MB) | Indexing metadata |