Outcomes of the New COVID-19 Coronavirus Infection in 68 Patients with Inflammatory Bowel Diseases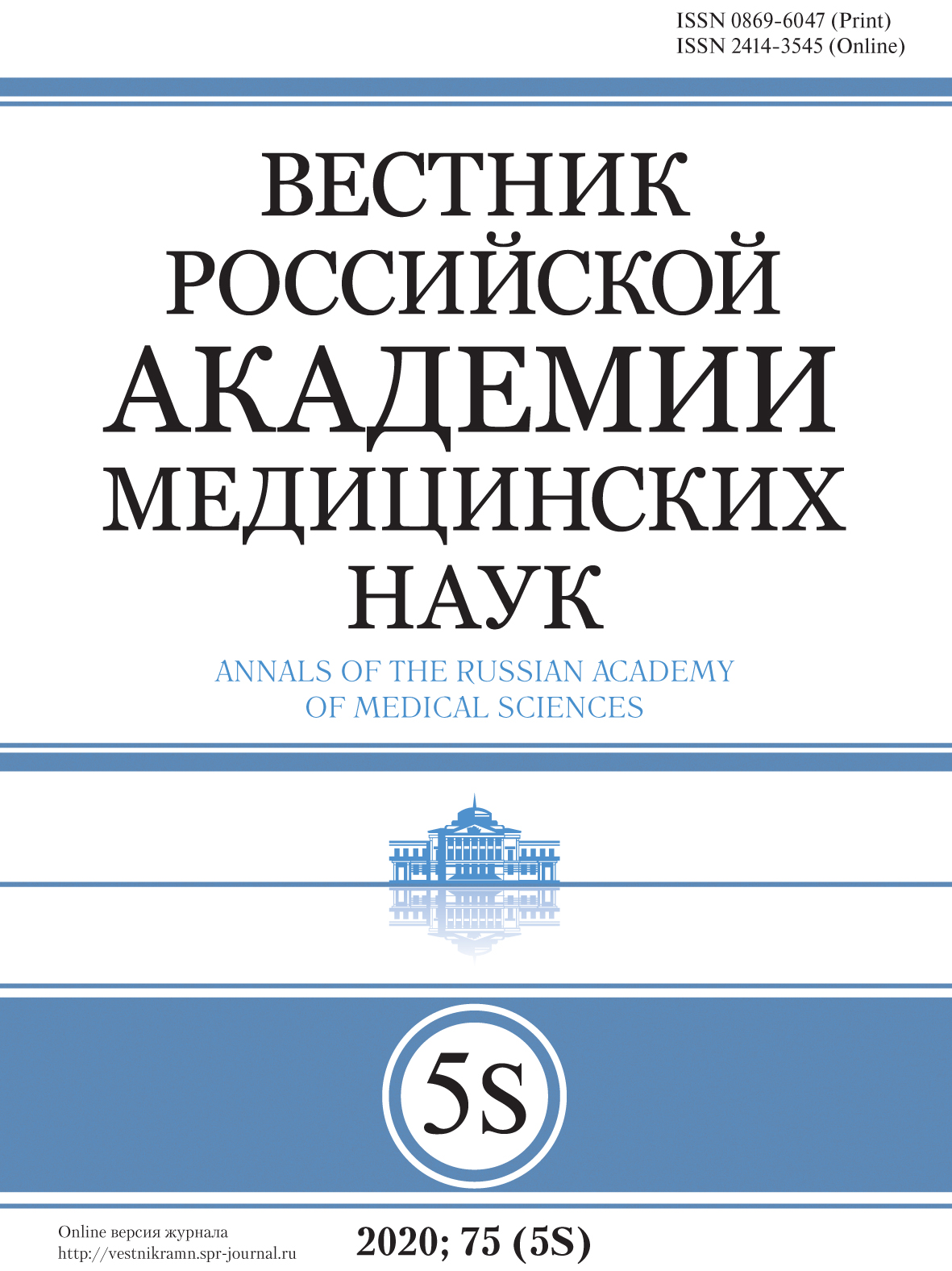 Authors: Kagramanova A.V.1, Knyazev O.V.1,2,3, Veselov A.V.2, Shkurko T.V.2, Li I.A.1, Fadeeva N.A.1, Kulakov D.S.1,2, Lishchinskaya A.A.1, Zvyaglova M.Y.1, Chernova M.E.1, Parfenov A.I.1
Affiliations:

Moscow Clinical Scientific Center Named after A.S. Loginov
Research Institute of Health Organization and Medical Management
State Scientific Centre of Coloproctology

Issue: Vol 75, No 5S (2020)
Pages: 406-413
Section: INFECTIOUS DISEASES: CURRENT ISSUES
Full Text

Open Access

Access granted

Subscription or Fee Access
Abstract
Background. COVID-19 is an infectious respiratory syndrome with a wide range of manifestations and outcomes. Patients with inflammatory bowel disease (IBD) generally have a higher risk of infection, especially if they receive immunosuppressive therapy.
Aim — to describe the manifestations of COVID-19 in patients with IBD and to determine the risk factors for severe COVID-19.
Methods. The analysis included 68 patients with an established diagnosis of Crohn's disease (CD) or ulcerative colitis and a confirmed new coronavirus infection. The diagnosis of coronavirus infection was established when SARS-CoV-2 was detected by PCR using nasopharyngeal smears, and computer tomography (CT) of the chest revealed inflammatory changes characteristic of coronavirus lung damage or high IgG and IgM titers based on the results of immunological blood analysis.
Results. 68 patients with IBD and COVID-19 were observed in the Department of IBD, including 27 (39.7%) patients with CD, 41 (60.3%) patients with UC. Among patients diagnosed with pneumonia, 100 % of patients received therapy with thiopurines and infliximab. 8 (11.8%) patients were diagnosed with COVID-19 during hospitalization for a severe IBD attack. There was no statistically significant difference between UC and CD patients in terms of disease activity (p = 0.13) during the period of coronavirus infection. In 37 patients (26 — UC, 11 — BC) with pneumonia (100%), there was an exacerbation of IBD. Statistical significance was found between the development of more severe lung damage (CT 3–4) and IBD activity at the time of diagnosis of COVID-19 (p < 0.001), the presence of comorbidities (p < 0.001) and taking GCS (p < 0.001) at the time of detection of COVID-19. However, the use of biological and immunosuppressive therapy was not associated with a higher risk of severe lung damage and the need for a ventilator. It was shown that the age of patients over 65 years was statistically correlated with the need for a ventilator (p = 0.02).
Conclusion. The exacerbation of the disease, especially in elderly patients with comorbidities, the use of glucocorticosteroids was associated with negative consequences of COVID-19, while biological and immunosuppressant drugs used for the treatment of IBD did not have such a negative effect.
Full Text

About the authors
Moscow Clinical Scientific Center Named after A.S. Loginov
Email: kagramanova@me.com
ORCID iD: 0000-0002-3818-6205
SPIN-code: 4086-6745

MD, PhD, Senior Research Associate
Russian Federation, 86 Shosse Entuziastov, 111123, Moscow
Moscow Clinical Scientific Center Named after A.S. Loginov; Research Institute of Health Organization and Medical Management; State Scientific Centre of Coloproctology
Author for correspondence.
Email: oleg7@bk.ru
ORCID iD: 0000-0001-7250-0977
SPIN-code: 3268-0360

MD, PhD, Leading Research Associate
Russian Federation, Moscow; Moscow; Moscow
Research Institute of Health Organization and Medical Management
Email: a_veselov82@mail.ru
ORCID iD: 0000-0003-3115-1787
SPIN-code: 9333-8673

MD, PhD, Leading Research Associate
Russian Federation, Moscow
Research Institute of Health Organization and Medical Management
Email: 89165457033@mail.ru
ORCID iD: 0000-0002-7502-2437
SPIN-code: 9073-3362

PhD
Russian Federation, Moscow
Moscow Clinical Scientific Center Named after A.S. Loginov
Email: i.li@mknc.ru
ORCID iD: 0000-0002-9508-7502
SPIN-code: 6336-3049

PhD
Russian Federation, Moscow
Moscow Clinical Scientific Center Named after A.S. Loginov
Email: chuevana@mail.ru
ORCID iD: 0000-0002-0524-2514
SPIN-code: 6047-7590

MD, PhD, Senior Research Associate
Russian Federation, Moscow
Moscow Clinical Scientific Center Named after A.S. Loginov; Research Institute of Health Organization and Medical Management
Email: dm.kulakov77@gmail.com
ORCID iD: 0000-0002-0855-5217
SPIN-code: 9966-0006

Junior Research Associate
Russian Federation, Moscow; Moscow
Moscow Clinical Scientific Center Named after A.S. Loginov
Email: lalbina@inbox.ru
ORCID iD: 0000-0001-7891-2702
SPIN-code: 9369-9674

MD, PhD, Senior Research Associate
Russian Federation, Moscow
Moscow Clinical Scientific Center Named after A.S. Loginov
Email: zwmr306@mail.ru
ORCID iD: 0000-0002-7937-2346
SPIN-code: 6119-5774

Junior Research Associate
Russian Federation, Moscow
Moscow Clinical Scientific Center Named after A.S. Loginov
Email: m.chernova@mknc.ru
ORCID iD: 0000-0002-6127-1723
SPIN-code: 1053-0790

MD, PhD
Russian Federation, Moscow
Moscow Clinical Scientific Center Named after A.S. Loginov
Email: asfold@mail.ru
ORCID iD: 0000-0002-9782-4860
SPIN-code: 5142-3632

MD, PhD, Professor
Russian Federation, Moscow
References
Zhou P, Yang X-L, Wang X-G, et al. A pneumonia outbreak associated with a new coronavirus of probable bat origin. Nature. 2020;579:270–273. doi: https://doi.org/10.1038/s41586-020-2012-7
World Health Organization. Novel coronavirus (COVID-19) Situation. Secondary Novel Coronavirus (COVID-19) Situation, 2020. Available from: https://experience.arcgis.com/experience/685d0ace521648f8a5beeeee1b9125cd
Meo SA, Alhowikan AM, Al-Khlaiwi T, et al. Novel coronavirus 2019-NCoV: prevalence, biological and clinical characteristics comparison with SARS-CoV and MERS-CoV. Eur Rev Med Pharmacol Sci. 2020;24(4):2012–2019. doi: https://doi.org/10.26355/eurrev_202002_20379
Guan W-J, Ni Z-Y, Hu Y, et al. Clinical characteristics of coronavirus disease 2019 in China. N Engl J Med. 2020;382(18):1708–1720. doi: https://doi.org/10.1056/NEJMoa2002032
Onder G, Rezza G, Brusaferro S. Case-Fatality rate and characteristics of patients dying in relation to COVID-19 in Italy. JAMA. 2020;323(18):1775–1776. doi: https://doi.org/10.1001/jama.2020.4683
Rahier JF, Magro F, Abreu C, et al. Second European evidence-based consensus on the prevention, diagnosis and management of opportunistic infections in inflammatory bowel disease. J Crohns Colitis. 2014;8(6):443–468. doi: https://doi.org/10.1016/j.crohns.2013.12.013
Драпкина О.М., Маев И.В., Бакулин И.Г. и др. Болезни органов пищеварения в условиях пандемии новой коронавирусной инфекции (COVID-19). Временные методические рекомендации // Профилактическая медицина. — 2020. — Т. 23. – № 3. — С. 2120–2152. [Drapkina OM, Mayev IV, Bakulin IG, et al. Interim guidelines: "Diseases of the digestive organs in the context of a new coronavirus infection pandemic (COVID-19)". Profilakticheskaya Medicina. 2020;23(3):2120–2152. (In Russ.)] doi: https://doi.org/10.17116/profmed202023032120
Шкурко Т.В., Веселов А.В., Князев О.В., Парфенов А.И., Каграманова А.В. Особенности новой коронавирусной инфекции COVID-19 у пациентов с заболеваниями желудочно-кишечного тракта // Московская медицина. — 2020. — S2(36). — С. 78–86. [Shkurko TV, Veselov AV, Knyazev OV, Parfenov AI, Kagramanova AV. Osobennosti novoj koronavirusnoj infekcii COVID-19 u pacientov s zabolevaniyami zheludochno-kishechnogo trakta. Moskovskaya medicina. 2020;(S2(36));78–86. (In Russ.)]
Beaugerie l, Kirchgesner J. Balancing benefit vs risk of immunosuppressive therapy for individual patients with inflammatory bowel diseases. Clin Gastroenterol Hepatol. 2019;17(3):370–379. doi: https://doi.org/10.1016/j.cgh.2018.07.013
Kirchgesner J, Lemaitre M, Carrat F, et al. Risk of serious and opportunistic infections associated with treatment of inflammatory bowel diseases. Gastroenterology. 2018;155(2):337–346.e10. doi: https://doi.org/10.1053/j.gastro.2018.04.012
Ping A, Mengyao J, Haixia R, et al. Protection of 318 inflammatory bowel disease patients from the outbreak and rapid spread of COVID-19 infection in Wuhan, China. Lancet Gastroenterol Hepatol. 2020;5(6):525–527. doi: https://doi.org/10.1016/S2468-1253(20)30121-7
Norsa L, Indriolo A, Sansotta N, et al. Uneventful course in IBD patients during SARS-CoV-2 outbreak in Northern Italy. Gastroenterology. 2020;159(1):371–372. doi: https://doi.org/10.1053/j.gastro.2020.03.062
Mazza S, Sorce A, Peyvandi F, et al. A fatal case of COVID-19 pneumonia occurring in a patient with severe acute ulcerative colitis. Gut. 2020;69(6):1148–1149. doi: https://doi.org/10.1136/gutjnl-2020-321183
Rahier JF, Magro F, Abreuc, et al. Second european evidence- based consensus on the prevention, diagnosis and management of opportunistic infections in inflammatory bowel disease. J Crohns Colitis. 2014;8(6):443–68. doi: https://doi.org/10.1016/j.crohns.2013.12.013
Xiao F, Tang M, Zheng X, et al. Evidence for gastrointestinal infection of SARS-CoV-2. Gastroenterology. 2020;158(6):1831–1833.e3. doi: https://doi.org/10.1053/j.gastro.2020.02.055
International Organization for the Study of Inflammatory Bowel Disease (IOIBD). IOIBD Update on COVID-19 for Patients with Crohn's Disease and Ulcerative Colitis. Secondary IOIBD Update on COVID-19 for Patients with crohn's Disease and Ulcerative colitis, 2020. Available from: https://www.ioibd.org/ioibd-update-on-covid19-for-patients-with-crohns-disease-and-ulcerative-colitis
Danese S, Cecconi M, Spinelli A. Management of IBD during the COVID-19 outbreak: resetting clinical priorities. Nat Rev Gastroenterol Hepatol. 2020;17(5):253–255. doi: https://doi.org/10.1038/s41575020-0294-8
Fiorino G, Allocca M, Furfaro F, et al. Inflammatory bowel disease care in the COVID-19 pandemic era: the humanitas, Milan experience. J Crohns Colitis. 2020.;14(9):1330–1333. doi: https://doi.org/10.1093/ecco-jcc/jjaa058
Ungaro RC, Sullivan T, Colombel J-F, Patel G. What should gastroenterologists and patients know about COVID-19? Clin Gastroenterol Hepatol. 2020;18(7):1409–1411. doi: https://doi.org/10.1016/j.cgh.2020.03.020
Ministero Della Salute. COVID-19. Aggiornamento della definizione di caso. secondary COVID-19. Aggiornamento della definizione di caso, 2020. Available from: http://www.trovanorme.salute.gov.it/norme/rendernormsanPdf?anno=2020&codleg=73669&parte=1%20&serie=null